There is an aflatoxin-control revolution going on in Ghana, with talented fighters wielding Aflasafe GH02 on the front line alongside other solutions. Read on to discover how the government is providing top-class leadership with direction and coordination at national level, or follow the links at the end of the story to find out how we at ATTC are using farmer demonstrations, events, and meetings with industry to help form Aflasafe champions across society.
As the battle against aflatoxin in our food intensifies, we are overjoyed to see it being given top priority – and serious support – by the Ghanaian government. On 12th December 2018, a brand-new National Steering Committee for Aflatoxin Control was inaugurated in Ghana by the Minister of Environment, Science, Technology and Innovation, Professor Kwabena Frimpong-Boateng. The committee brings together a number of different government bodies, alongside other stakeholders from the food safety, food industry, research and academia, and media sectors.
The committee will provide leadership on aflatoxin control, help coordinate efforts across the country and between different bodies, and feed into government policy. Its establishment was facilitated by the Science and Technology Policy Research Institute (STEPRI) of Ghana's Council for Scientific and Industrial Research (CSIR), with funding from the Alliance for Green Revolution in Africa. As Professor Victor Agyeman, STEPRI Director, explained at the inauguration, the need for such a steering committee had become a matter of national urgency, to ensure an efficient and joined-up approach to the serious health and economic threat posed by aflatoxin.
ATTC will work closely with the committee on building up Ghana's aflatoxin management policy. We plan to regularly share information, in particular gathering evidence and highlighting issues from our work that can inform policy formulation in the light of realities on the ground.
We were privileged and delighted to attend the inauguration and to see so many of our partners coming together alongside new comrades. As their leader of leaders, the committee unanimously elected Professor Richard Tuyee Awuah of Kwame Nkrumah University of Science and Technology as Chairman. Prof Awuah is a valued friend of Aflasafe, and gave the keynote speech at the launch of Aflasafe GH02 in June 2018, on the theme of Aflatoxin control: Whose responsibility? Just as he – and all of us – concluded that day, aflatoxin is everyone's problem, and many organisations and sectors of society have important roles to play. We are excited to see this all-Ghanaian, cross-Ghanaian committee take shape and face up to the aflatoxin challenge, and we are honoured to be handing Aflasafe GH02 on to so many talented and committed fighters.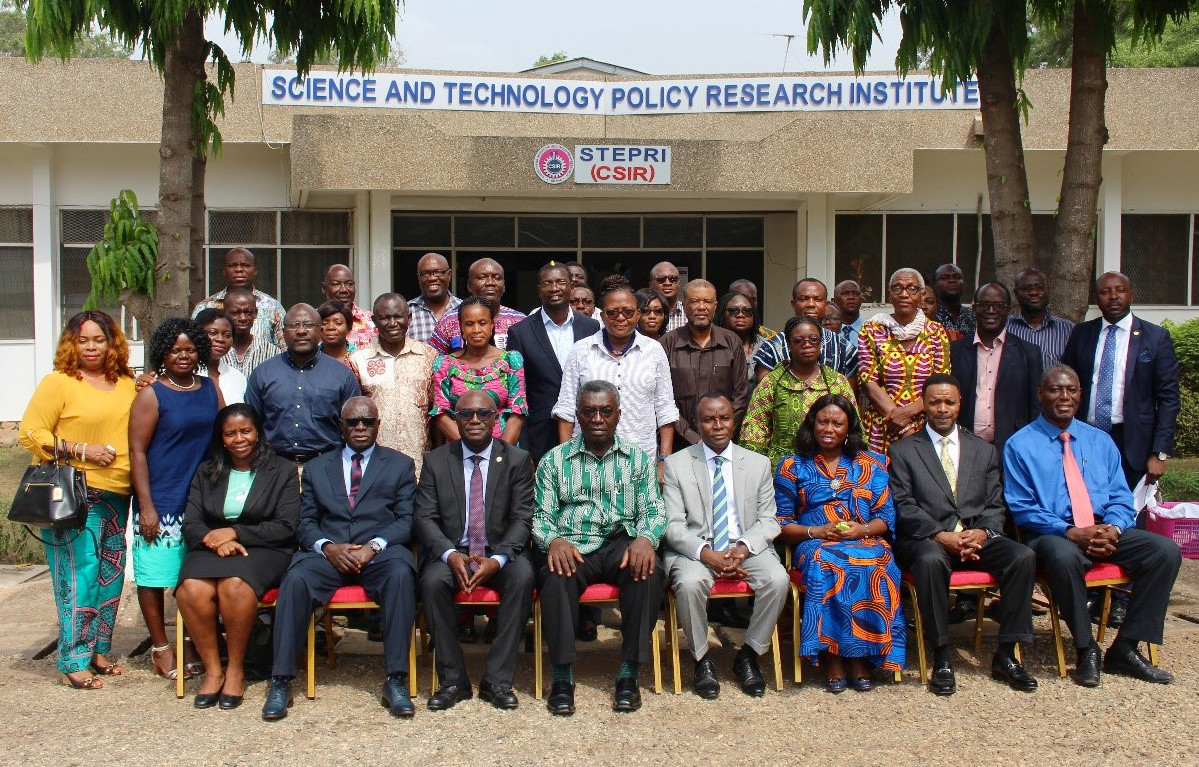 The challenge is a serious one: aflatoxin contamination in Ghana is both widespread and severe, as highlighted by Dr Rose Omari, Project Coordinator on aflatoxin control at STEPRI. At worst, aflatoxin levels can be many hundreds of times higher than the safe limits. She also explained that contamination is an active barrier to trade, particularly with the European Union, and costs lost exports, noting that Ghana has the dubious distinction of being among the top ten countries triggering safety alerts from the EU's Rapid Alert System for Food and Feed. Prof Frimpong-Boateng – himself a highly esteemed physician and surgeon – spoke of the costs to our health caused by aflatoxin exposure, emphasising that it is the littlest ones, our children, who pay the highest price. Inaugurating the committee, he welcomed its timely creation. "Aflatoxins had been with us for a long time and we could no longer afford to give these toxins a chance to destroy our food, health and sources of income," he observed
There is nothing better than knowing that Ghana's national leaders share our vision of an aflatoxin-safe future. For ATTC, successful commercialisation will mean that our role shrinks to nothing as Macrofertil takes over distribution and marketing – but they can't do it alone. We look forward to working with the steering committee, and to their leadership and support in making aflatoxin a national priority and creating a regulatory and policy environment where Aflasafe can flourish.
Meanwhile, for more on how we are creating Aflasafe champions in industry, farming and civil society, see:
With thanks to CSIR-STEPRI for photos and additional material.
LINKS
Coverage of the inauguration of the National Steering Committee for Aflatoxin Control:
Previous news items from us:
Keep updated on the latest on Aflasafe in Ghana