Aflatoxin is invisible, tasteless, and odourless, making it impossible to detect outside a laboratory. It is also dangerous in absolutely tiny amounts, measured in parts per billion (ppb). A safe level of aflatoxin might be no more than about one gramme of toxin – less than a teaspoonful – in 100,000 kilos of food – enough to make dinner for a small city.
With aflatoxin flourishing in our crops, and poor mechanisms to keep it off the food on the table, the toxin is common in dangerous amounts on plates across Africa.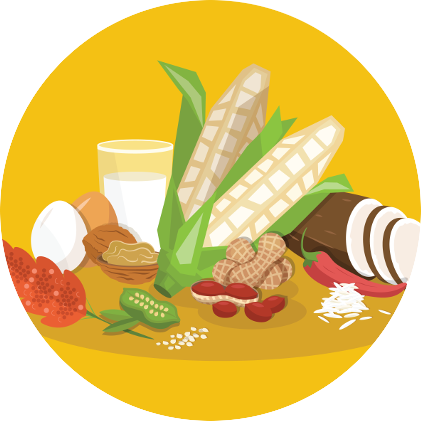 To keep food safe, most countries or regions have legal limits on the amount of aflatoxin allowed in food. These maximum permitted levels vary slightly between places and types of food. For example, the European Union has stringent limits for aflatoxin B1 (the most harmful type) of no more than 2 ppb in food for adults and 0.1 ppb for cereal-based baby foods. On the other hand, the USA allows levels of up to 20 ppb total aflatoxin in food. In milk, the limits for aflatoxin M1 (a toxic aflatoxin metabolite) are much lower: 0.5 ppb in the USA and 0.05 ppb in Europe. In each case these limits are strictly enforced – and currently form a major barrier to African exports.
African countries and regions also have established aflatoxin limits. For example, the East African Community has adopted a standard limit for 28 selected foods of up to 5 ppb for aflatoxin B1 and 10 ppb for total aflatoxin. However, across Africa such limits are rarely enforced. There are major challenges: in many areas most food is eaten by the families who grow it, and never passes through any form of checks. Of food that is sold, much is via informal markets rather than the formal food industry.
With aflatoxin flourishing in our crops and poor mechanisms to keep it out of food on the table, the toxin is therefore common in dangerous amounts on plates across Africa. Many everyday essentials are prone to contamination, including maize, groundnuts, sorghum, rice, milk, baby food, and more. For example, in Kenya and parts of Tanzania, 40% of the maize and groundnuts on sale contain levels of aflatoxin above the safe limit.
To keep all food in Africa safe, we need effective food safety systems and enforcement of aflatoxin limits, supported by proactive government policies.
Almost all Africans are exposed to aflatoxin in their food and are carrying some level of aflatoxin in their bodies. However, aflatoxin hits people living in poverty even harder, for several reasons:
They tend to have less diverse diets, and rely on aflatoxin-prone staples like maize and groundnuts.
They grow their own food or buy from informal markets, with no regulation or monitoring of aflatoxin content.
Contaminated food that is rejected for export or other premium markets often ends up being funnelled back into informal markets within Africa, concentrating the amount of aflatoxin in the foods on sale.
In Kenya, scientists measured aflatoxin in nearly 900 mothers. While every single woman had been exposed to aflatoxin, the worst-off had around five to seven times as much aflatoxin in their blood as the best-off. A study of pregnant women in Ghana also found that the lower a woman's income the higher the aflatoxin levels in her blood, and the greater the risk to her baby. When illness does strike, the poorest families also suffer most in supporting a sick relative on top of paying for healthcare costs.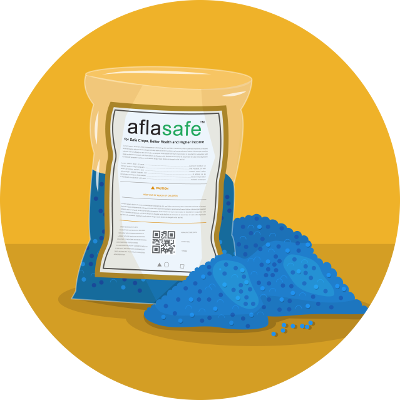 Aflasafe is a highly effective solution, cutting aflatoxin levels by 80-100% and almost always getting them within safe limits. It also works with a single application, all the way from plot to plate, which means that it protects everyone. It takes effect in the field, protecting crops, which means that farming families who eat their own harvest, or buy and sell locally, have safe food. Because it brings aflatoxin levels down across the whole crop rather than relying on removing contaminated grains, there are no losses to the harvest and no need for an extra processing step later on. And because it keeps working through storage and transport, right up until the food is cooked or eaten, there is little risk of previously-safe food becoming unsafe for consumers.
So, we have a good way to cut aflatoxin out of food, but to keep all Africans safe we also need effective food safety systems and enforcement of aflatoxin limits, supported by proactive government policies. Public awareness will encourage farmers to use Aflasafe, and consumers to seek out aflatoxin-safe food. The development of appropriate food safety standards for aflatoxin, and their monitoring and enforcement, including collaboration with the private sector, will help ensure that unsafe food is kept off the market. -Food certification and labelling for aflatoxin-safe foods will help consumers choose safe options and create confidence that they are getting what they are paying for. Aflasafe's registration and proper labelling will reassure and encourage farmers that they are buying an effective product.
Examples of specific policies to help keep aflatoxin out of food include:
Supporting research to generate Africa-specific data on aflatoxin prevalence and its impact on humans and animals.
Standardising procedures and creating centres of excellence for aflatoxin testing in food and animal feed.
Creating affordable and accessible technologies and testing protocols for on-the-ground monitoring, and compliance systems to track aflatoxin content from plot to plate.
Working with the private sector, e.g. food traders, processors, and retailers, to create sampling and testing protocols and standardised aflatoxin limits and enforcement procedures – with the private sector taking on the burden of proof for compliance and government carrying out oversight.
Running public awareness campaigns for farmers and consumers.
Creating easily-recognised, official logos to identify aflatoxin-safe foods.
For more, see our Policy section, particularly our Policy Brief on Harmonization and strengthening of aflatoxin standards regulation for human food and food products to promote public health and our Technical Policy Paper on Aflatoxin standards for food.