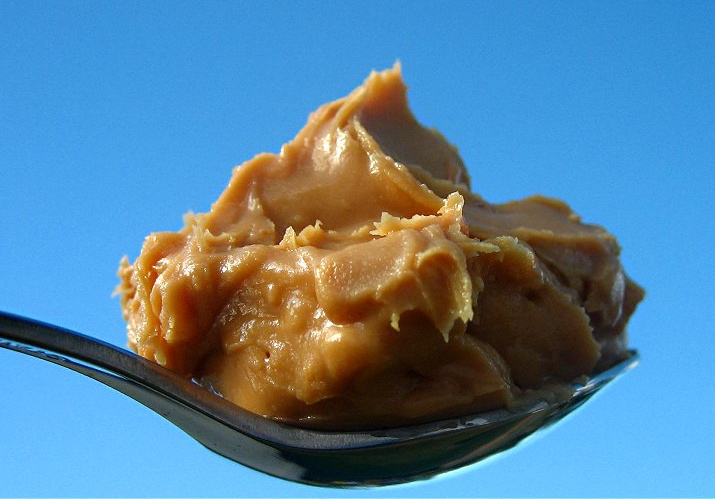 With a lot of help from our friends in Ghana, we're not just getting by but finding somebody to love, making a host of yet more new and influential friends and swelling the ranks in Ghana's fight against aflatoxin in food. The beginnings of an ocean of aflatoxin knowledge are slowly but steadily spreading across Ghana, fed by mighty rivers of concerted training and awareness activities in collaboration with our partners, and the life-giving rains of a government firmly determined to sweep aflatoxin out of Ghana. Aflasafe GH02 is a powerful, all-natural, Ghana-tailored solution to aflatoxin – but people need to know just why fighting aflatoxin is so important. Lethal aflatoxin lurks invisible beneath the surface, even in factory-processed foods. To demonstrate this in real life, we asked training participants to bring along with them their own everyday foods for aflatoxin testing as an integral part of their training. The results? Below, and chilling. They convincingly illustrate just how real, present and close to us is the deadly danger of aflatoxin, even when food comes prettily packed. But it is not all doom and gloom: there are readily available solutions to curb this menace. And by working alongside anti-aflatoxin allies whose networks reach far and wide, we are training trainers and creating advocates whose voices will reach many thousands more in turn.
The first half of 2019 saw ATTC and our partners in Ghana take an ambitious, wide-reaching and strategic approach to aflatoxin awareness and training. We focussed on six key regions where large quantities of groundnuts, maize and sorghum – Aflasafe GH02's target crops – are grown. There, we trained extension agents, agribusiness staff, and other pivotal people in the chain that stretches from plot to plate. Our aspiration is to see this training trickle turn into a decisive and transformative flood of action against aflatoxin as each trainee goes on to spread the word.
One guiding principle was to focus on creating a better understanding of the fundamental problem of aflatoxin contamination. Why? Because aflatoxin is a serious menace in Ghana, making food unsafe to eat and barring Ghanaian produce from international and premium markets. "The moulds that produce aflatoxin are ferocious in attack, occurring at any stage of the supply chain – from pre-production and farmers' fields to post-harvest storage and distribution," explains Rev John Manu, Director of Agriculture for Ashanti Region. Yet few people in Ghana know about aflatoxin, as in most countries around the world, and even those who have heard of it tend to have misconceptions – for example, that aflatoxin only strikes after harvest. "Not much has been done in the past in terms of awareness creation on aflatoxin," reveals Rev Manu. "Most of the actors along the various value chains seem not to have any idea about this killer canker."
Clearly then, knowledge is the first thing that's needed.
Aflasafe was created to control aflatoxin. So if extension agents, for example, lack a full knowledge of aflatoxin, then it follows that they cannot really talk to farmers about what Aflasafe does. That is why we have to take a step back and help bring about greater understanding of the health, economic and food-security impacts of aflatoxin. Only then can people appreciate the anti-aflatoxin protection Aflasafe and other solutions offer.
Our training activities are not about directly creating demand for Aflasafe. Rather, they are about creating an appetite to act in getting to grips with aflatoxin management and solving the contamination problem. This is certainly an essential foundation for Aflasafe commercialisation, but it will also encourage the adoption of other technologies and good agricultural practices that work in harmony to protect food from aflatoxin.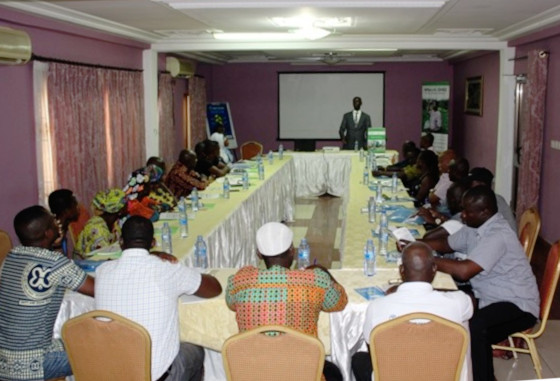 The Government of Ghana is a crucial ally in driving awareness of aflatoxin and how to fight it, including with Aflasafe GH02. It is determined to stamp out aflatoxin contamination, providing leadership through a National Steering Committee for Aflatoxin Control. "The role of the food regulatory agencies cannot be understated," says Rev Manu. "Inadequate awareness, testing and certification processes have crippled the ability of the country's farming population to maintain a quality of produce that is acceptable to both local processors and international buyers. As a result, it is not uncommon for cash-strapped farmers to sell the best items from their harvests, leaving the low-quality and contaminated produce for their own consumption."
The Ministry of Food and Agriculture (MoFA) is therefore a key partner in our training activities, and we work closely with MoFA's Regional Directors of Agriculture, like Rev Manu, to identify and bring together critical participants. Above all, MoFA have been enthusiastic facilitators of and participants in training sessions with MoFA extension agents, who work directly with farmers and are absolutely crucial to spreading awareness of aflatoxin. They have helped pave the path for Aflasafe in many other ways too, providing invaluable local intelligence and networks, for example by connecting ATTC with agribusiness partners.
We are also working with GIZ's Green Innovation Centre (GIC) in several regions. GIC promotes agricultural innovations that offer better diets and improved food security for rural people and increased incomes for farmers, giving us common goals and making Aflasafe a natural fit in GIC's programme for groups of farmers and extension agents. MoFA and GIZ's training structures and networks allow us to reach many more of these key influencers than we would on our own, imparting the life-saving know-how on aflatoxin that farmers need.
We began in the Ashanti and Eastern Regions, with two training-of-trainers workshops in the regional capitals of Kumasi and Koforidua, held in collaboration with MoFA and GIC in March 2019. The participants – including MoFA agricultural extension agents, field officers from agribusinesses and grain buyers, lead farmers and other influential players – expanded their understanding of aflatoxin contamination and how to manage it. We were honoured and delighted to welcome the MoFA Regional Directors of Agriculture to open both events – Rev Manu in Ashanti, and Mr Henry Crenstil Jnr in Eastern Region – and to receive their pledges of support, for example adding aflatoxin control, Aflasafe and other good practices to the portfolio of their MoFA information vans that visit rural communities.
Our collaboration with MoFA and GIC continued in April, with two very similar training events in the Brong Ahafo and Volta Regions, held in Techiman and Ho. The latter was graced by an address from the Regional Director of Agriculture for Volta Region, Mr Delali Nutsukpo. In Brong Ahafo, the Regional Director was represented by the Regional Veterinarian, Dr Xavier Denueme, who particularly lamented the severe and limiting effects of aflatoxin-contaminated feed on the poultry industry, and the lack of awareness among poultry producers.
As part of the April training sessions, participants coming from different locations were asked to bring along samples of ordinary foods that they sell, buy or eat at home, to be tested for aflatoxin. They included maize flour, factory-packaged peanut butter and manioc (cassava) flour straight off the shelf. Though the sample size was small – just three per region – the significance is huge. Aflatoxin levels in the six samples were varied. They ranged from 6.8 parts per billion (ppb) in the manioc flour – not highly dangerous, but too contaminated to trade on many markets – to 10.5 and an unsafe 43.4 ppb in the maize flour (Ghana's safety limit for maize is 15 ppb). But in the packaged peanut butter, aflatoxin measured in at a downright dangerous and alarming 28.9, 83.3 and 130.6 ppb, worryingly far beyond the country's safety limit of 10 ppb.
These results brought home to the trainees just how real, dangerous and widespread the invisible aflatoxin contamination in their food is – and convincingly demonstrated how we're all at risk from aflatoxin, from the village to the city, and from the market to the supermarket. All the participants agreed that this was a real motivator to be more conscious and proactive in the future.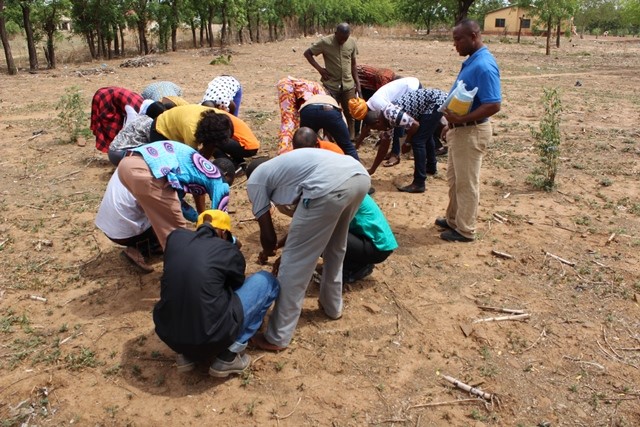 May found us in Tamale in Northern Region and Bolgatanga in Upper East Region. Collaboration with MoFA in these regions was crucial in organising training for extension agents. We were also very fortunate to welcome the Regional Director, Mr William Boakye Acheampong, to open and participate in our Northern Region training, while in the Upper East Region, Regional Extension Officer Mr Zimi Alhassan represented the Regional Director. Another key partner here was the Market Development Programme for Northern Ghana (MADE), which is funded by the UK Department for International Development (DFID) and which supports agricultural and agribusiness development. MADE helped us to identify local agribusinesses that had not been trained on aflatoxin management in 2018, and train their core technical and managerial staff. These staff manage large numbers of farmers – either on company-run farms or working with outgrowers – and are now primed to pass on their new aflatoxin knowledge.
In adding our ripples to what we hope will build up into a veritable tidal wave of aflatoxin knowledge across Ghana, we aimed to reach movers and shakers all along the groundnut, maize and sorghum value chains, from farmers in the field to food production. The biggest slice of our participant pie was made up of extension agents, but many also came from agribusiness and farmer groups. Traders and trade organisations, aggregator buyers, grain processors, food industry and the poultry sector were also represented.
These extension agents and other influencers are an indispensable bridge by which to reach many thousands of farmers with aflatoxin awareness. One of the many happy outcomes is to create demand for Aflasafe – as well as other aflatoxin solutions – and this in turn encourages agro-dealers to stock the product, helping ensure that Aflasafe is effectively distributed and will reach farmers on the ground, and giving it a sustainable future. Spreading awareness and sharing knowledge as widely and rapidly as we can is therefore a fundamental prerequisite to achieving practical and permanent change.
"As soon as people learn about aflatoxin and its impacts on health and incomes, they immediately ask how we can cut contamination to a minimum," says Dr Daniel Agbetiameh, IITA's Aflasafe Technical Consultant for Ghana. "Training events cultivate advocates. We give participants an understanding of just why aflatoxin it is so important, and all they need to take the message forward, and authoritatively and confidently teach others about aflatoxin control."
Working with partners also helps us to make strategic decisions. We cannot – at least initially – hope to train all extension agents within a region, so the Regional Directors of Agriculture have played a key role in helping us select extensionists from districts where groundnuts, maize and sorghum are the main crops, as well as those that provide support to agribusinesses and large-scale growers that are potential early adopters of Aflasafe. As companies like these embrace Aflasafe and other good practices as part of their standard operating procedures, better aflatoxin control is gradually being built into our normal routines across Africa.
Part of an awareness tidal wave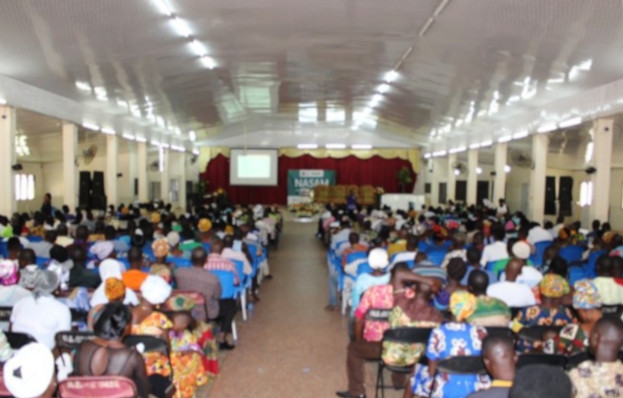 Another government body that is leading the anti-aflatoxin armada is the Ghana Standards Authority (GSA). The new GSA-led National Aflatoxin Sensitisation and Management (NASAM) project is going from strength to strength as it sweeps across Ghana, and we continue to participate in exciting and evolving ways. During April and May 2019, we participated in the official launches of the project and subsequent workshops in four regions, giving presentations on aflatoxin management. Several hundred people attended each event, including farmers, extension agents, journalists, academics and representatives of government and civil society organisations. Plenty more activities are planned for the rest of the year, including working with farmers to create Aflasafe demonstration plots during the minor growing season, starting in August.
The very first NASAM event was a training workshop for media professionals, our crucial allies, and its ripples are already evident across the Ghanaian media, with a huge surge in coverage of aflatoxin and NASAM itself. We were delighted to help break down jargon or mystery about aflatoxin and build up understanding of how we can tackle it together, and we look forward to ongoing and flourishing relationships with these new and old friends in the media.
One thing is clear: this is a nation that's determined to tackle aflatoxin – and with the tide of awareness spreading, aflatoxin's days are numbered in Ghana. As our partnerships continue to grow and evolve, stay tuned for more news of dynamic initiatives and innovative approaches in the fight against aflatoxin, and a firmly-founded future for Aflasafe GH02.
LINKS