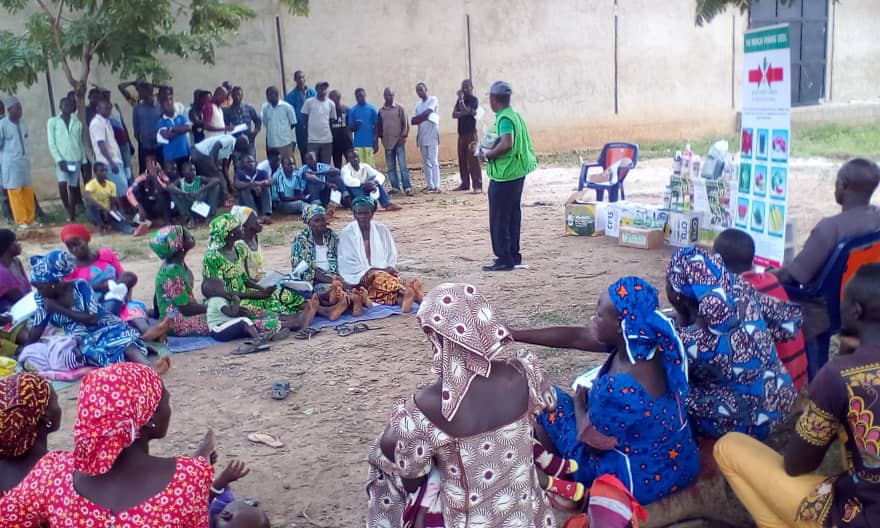 Continuous because the job is never done. Paradoxically, aflatoxin in food is a big problem but awareness is very low. And so, following a successful first campaign earlier in the year, Harvestfield Industries Ltd lived up to their commitment to undertake a second awareness campaign, as part of their marketing strategy for Aflasafe™ in Nigeria. They are the appointed and exclusive distributors and manufacturers of Aflasafe in Nigeria.
In a week-long effort from 28th May to 2nd June, Harvestfield held 57 campaigns across 18 states whose major crops are groundnuts and maize. These are the crops that are most vulnerable to aflatoxin, against which Aflasafe offers protection. Approximately 60 communities were targeted, with each campaign reaching an average of 100 farmers, most of whom were lead farmers representing farmer groups and clusters. Farmers were mobilised through extension agents and community leaders. The training was conducted in English and/or local languages as appropriate (Yoruba, English and Hausa, Igbo/Pidgin). Aided by ATTC-produced video and text to assure clarity and comprehension, trainers explained aflatoxin and the problems it poses, before presenting and explaining Aflasafe, how to use it, and how it works to counter aflatoxin, emphasising attendant health and economic benefits. To round off the campaign and assure product availability, farmers were thereafter linked to FMARD greenhouses and Harvestfield warehouses for sales activation.
Much more remains to be done, as Aflasafe is an invisible solution to an invisible problem. The government is a key player in creating awareness on aflatoxin, which is why the campaign also included representatives of the Federal Ministry of Agriculture and Rural Development (FMARD), working hand-in-hand with Harvestfield in creating this much-needed awareness. This is not new, as FMARD and Harvestfield have previously partnered on aflatoxin awareness through ATTC. Harvestfield is also partnering with other players in the private sector in marketing Aflasafe. On the production side, Harvestfield continues to work with IITA's Business Incubation Platform to assure adequate Aflasafe production for Nigeria for the 2018 cropping season.