"It's first and foremost about my own health and that of my family. You have to heal yourself before you begin to heal others" —Mr Habib Thiam, agribusiness entrepreneur, exporter and President of Le Collectif des producteurs et exportateurs de graines d'arachide (COPEGA – Consortium of groundnut producers and exporters) in Senegal
October 2018, Taïba Niassen, Kaolack, Senegal
An agribusiness perspective
Meet Mr Habib Thiam, who is engaged in agribusiness in Kaolack, Senegal, specialising in production, processing and export of agricultural produce, particularly groundnuts. Kaolack is in the country's groundnut belt.
Habib has been consistently using Aflasafe SN01 – the product specially tailored for Senegal and The Gambia – for the past four years since 2015. He first heard of Aflasafe from Dr Lamine Senghor, then with La Direction de la Protection des Végétaux (DPV), and now the Aflasafe Business Development and Technology Transfer Specialist in Senegal for IITA's Aflasafe Technology Transfer and Commercialisation initiative (ATTC). "I had also learnt about the devastation and causes of cancer from La Ligue Contre le Cancer, which described it as 'la mauvaise maladie qui ne se soigne pas' [the terrible disease for which there is no cure]," Habib reveals.
"Lamine also alerted us on the dangers of aflatoxin, but also the solution and how to beat aflatoxin," Habib continues. "There is much to be gained by avoiding aflatoxin for both health and business. Markets in Europe are much more stringent on aflatoxin compared to Asian markets." Aflatoxin in food is measured in parts per billion (ppb). The European Union safety level is between 0.1 and 15 ppb, depending on use (from baby food to animal feed). "European markets offer significantly higher prices," says Habib. "This is where my business interest in Aflasafe began. I have not looked back because I have been getting excellent results since 2014. In that first year of using Aflasafe, even as we were late in testing, the results were 5 ppb." To see these results in even clearer context beyond Europe, the Nigeria safety level is 4 ppb, 10 in Kenya, and a maximum of 20 ppb for most foods and animal feeds in USA.
But even as Habib now has export-quality groundnuts thanks to Aflasafe, he is not exporting yet. In an extraordinary business unusual move, Habib has chosen to first serve a social cause before business. "It's first and foremost about my own health and that of my family. You have to heal yourself before you begin to heal others," he says. So, Habib is for now selling his aflatoxin-safe groundnuts in the local market, processing them into branded groundnut oil and groundnut cake. But he is at the same time exploring the European market for the future as part of his business expansion plan.
Habib works with a network of out-grower farmers. These farmers are selected through COMPACT – Coopérative moderne des producteurs agricoles de la commune Taïba Niassen. COMPACT is a farmer co-operative in Taïba Niassen which is a vehicle for farmer extension and therefore serves as a means for effectively distributing Aflasafe to farmers.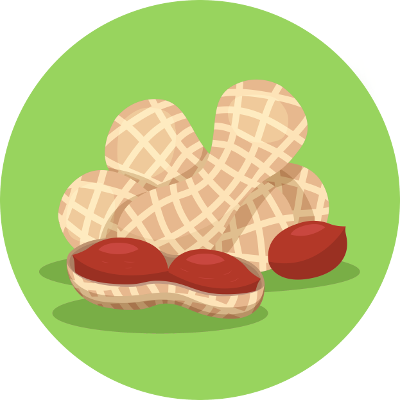 COMPACT has about 2,000 members. Of these, Habib is working with 300 farmers to whom he provides Aflasafe, for which the farmers pay in kind once they harvest the Aflasafe-treated groundnuts. This arrangement works well, as farmers do not have to pay direct cash costs upfront for Aflasafe as an input. And to further sweeten the business deal, Habib offers his out-growers a special above-market price for Aflasafe-treated groundnuts. To protect his business interests and reputation, he has safeguards in place to ensure value for money through thorough quality assurance right from the ground up: "For distinction we mark treated and untreated fields, and aflatoxin-testing is done at depots right here in Taïba," says Habib. "We only work with the most dedicated farmers who've proven themselves. We put quality before quantity: we'd initially started with 500 farmers, but this number has since dwindled to nearly half."
What would Habib like to see happen? "Aflasafe must invest more in communication and extension, and promote both protection and business, the economic angle as well as the health benefits," he exhorts. "Consumers should be concerned about good quality and be willing to pay more for this quality. I would like to see the government allocate a subsidy for Aflasafe. Liver cancer cases are very high in the groundnut belt. This makes the case for reducing the cost of Aflasafe by subsidising it as a matter of public health. We must reduce the price of Aflasafe, remove import and duty tax on it, and greatly expand its usage."
From a statement by the Prime Minister and head of government His Excellency Mr Boun Abdallah during the 3rd biannual Platform Meeting of the African Union's Partnership for Aflatoxin Control in Africa (PACA), the government is indeed listening and set to take action, starting with a CFA 2 billion (USD 3.4 million) fund in 2019 dedicated to fighting aflatoxin, fittingly reported in the health section of DakarActu.
LINKS