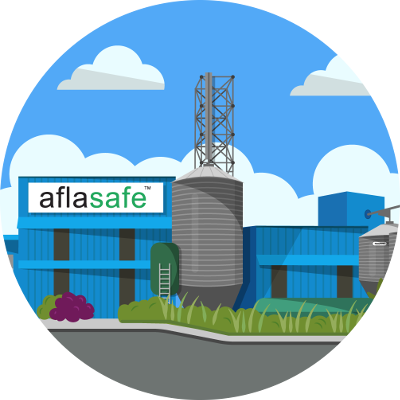 Aflasafe is made in Africa using locally sourced materials. It can be produced on a large scale at low cost, thanks to some clever science and innovative techniques.
The first manufacturing plant was built at Ibadan, Nigeria, and it can produce up to five tons of Aflasafe per hour. It currently supplies Aflasafe across the continent where the product is still at R&D stage, while other factories in countries where Aflasafe has been commercialised are – or will be – on a BOO basis, ie, built, owned and operated by country partners themselves. Kenya has its own factory owned and operated by KALRO, one is under construction in Senegal by BAMTAARE, and others are planned for  Nigeria and Tanzania, to be owned and operated by the respective IITA-appointed Aflasafe manufacturers and distributors.
Aflasafe uses a few simple elements:
The active ingredient is a combination of

four friendly strains of the fungus Aspergillus flavus

that do not and can never produce aflatoxin. Each country has its own custom mixture, made of highly effective aflatoxin-busting strains that have been collected and tested locally. These spores are cultivated and made into a liquid suspension.

A seed treater is used to coat the spores onto

ordinary sorghum grains

that have been cleaned and roasted, to kill and sterilise them so they cannot sprout or carry any other nasties. The sorghum acts both as vehicle and as food to support the spores of the friendly strains.

Blue food colouring

is added to distinguish Aflasafe from other sorghum for food or feed use – giving Aflasafe its distinctive blue colour (the exact shade can vary a bit).

A small amount of maize starch (technically referred to as polymer) helps the spores to stick to the grain.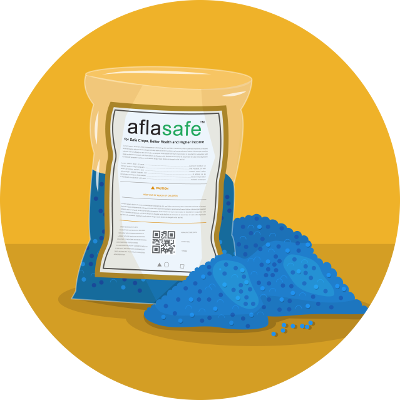 All that remains is to package up the Aflasafe into bags, and take samples for quality control testing before it is dispatched to farmers and distributors.
All the machinery used to make Aflasafe, such as the cleaner and roaster for the sorghum, the seed treater, and the packaging equipment, is available off-the-shelf throughout Africa, as it is commonly used by companies such as seed producers and feed manufacturers.
In order for Aflasafe to go on sale, it must also be registered and approved for use by national authorities. It is currently available in several countries, and is undergoing development, testing or registration in several others. The Aflasafe team is supporting the registration processes in each target country, as well as transfer to local companies and organisations for manufacture and distribution. Visit Aflasafe where I am for latest status.