Aflasafe is an all-natural product for Africa that fights aflatoxin in food: customised for each country or region, Aflasafe reduces aflatoxin by up to 99%. In Senegal, local Aflasafe production commences mid-2018, with today's signing ceremony paving the way…
DAKAR, SENEGAL, 21st September 2017 – Today in Dakar, both Senegal and The Gambia simultaneously took a giant leap forwards in technology to fight aflatoxin. BAMTAARE SA has signed a Technology Transfer and Licensing Agreement (TTLA) with the International Institute of Tropical Agriculture (IITA) for local manufacture, distribution and sale of Aflasafe SN01™. With this, construction of an Aflasafe SN01 factory at Kahone, Kaolack Region, Senegal, will immediately commence. Production will start in June 2018. The factory will be fully owned, operated and managed by BAMTAARE, which will finance its construction, while IITA will provide technical and business-development support.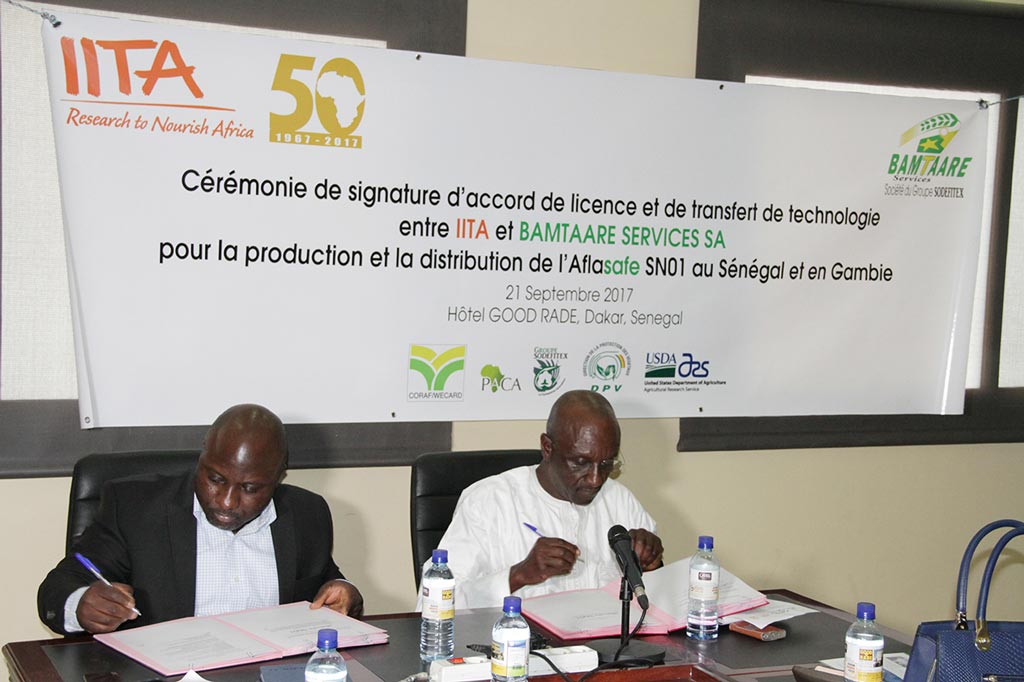 To assure broad and wide Aflasafe distribution, the business-to-business performance-based agreement signed today spells out annual production and distribution targets to be met. The company expects to produce and distribute 1,300 metric tonnes of Aflasafe in Senegal and The Gambia by the fifth year, translating into 130,000 hectares of Aflasafe-protected groundnuts and maize.
"Our vision of success is that every maize and groundnut farmer have access to Aflasafe where and when needed," said Mr Abdou Konlambigue, the Managing Director of IITA's Aflasafe Technology Transfer and Commercialisation Project (ATTC). "We are very proud to partner with BAMTAARE to bring Aflasafe closer to farmers in Senegal and The Gambia." Mr Konlambigue revealed, "This is the first licence granted to a private company in Africa, and we are fully committed to make it successful."
For more on the technology transfer licence and agreement, Aflasafe SNO1, and aflatoxin in Senegal and The Gambia, see our press release.