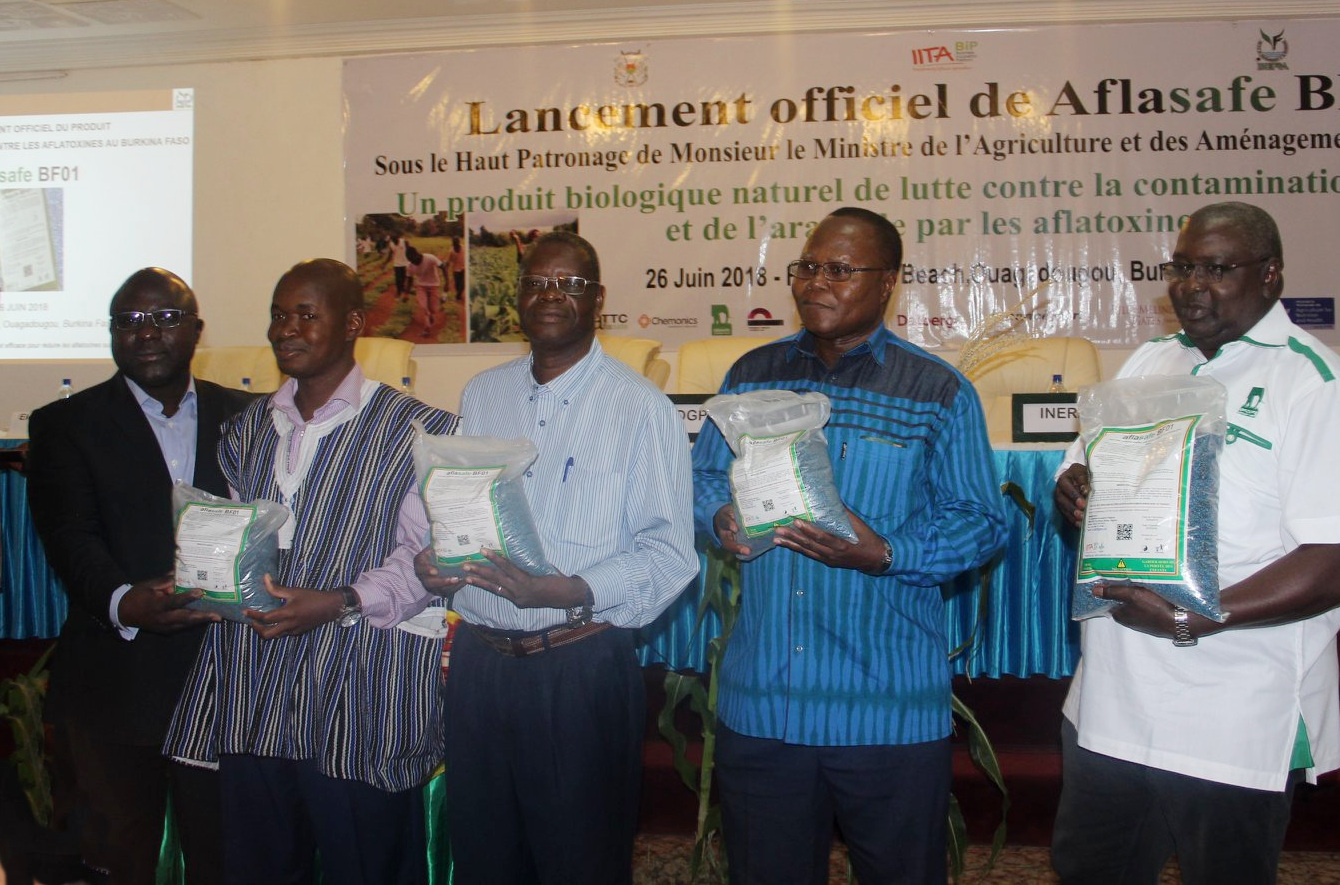 We celebrated a big step forward in the battle against aflatoxin in Burkina Faso with the official launch of Aflasafe BF01, held on 26th June 2018 in Ouagadougou. This glamorous event honoured the long-standing partnerships behind the development of this powerful product, and celebrated new ones, as Aflasafe BF01 goes on sale distributed by Eléphant Vert. It was presided over by Mr Ali Romba, representing the Minister of Agriculture and Water Management, Mr Jacob Ouedraogo, who emphasised the importance of agriculture in Burkina Faso.
Aflasafe BF01 is a powerful toxin-beating product tailor-made for Burkina Faso. Tests have shown that it cuts the amount of aflatoxin in maize and groundnuts at harvest time by an average of 96%. This protection operates all the way from plot to plate, and even after poor storage in humid conditions it reduces aflatoxin by 94% compared with no treatment.
Safeguarding maize and groundnuts – both very vulnerable to aflatoxin contamination – is especially important in Burkina Faso, since so many people depend on these staples for both food and livelihood. "Agriculture is a key pillar in Burkina Faso's economy, and the mainstay for 80% of the population, contributing more than a third of the country's gross domestic product," said Mr Romba. "The government is keen to promote the adoption and diffusion of technologies that enhance the quality of agricultural products, hence increasing income."
A day prior to the launch, we brought the farm to the city with a media orientation, introducing the press to the dangers of aflatoxin and how Aflasafe BF01 can keep food safe. Because aflatoxin is invisible and has no taste or smell, and damages health over the long term such that its effects are usually not immediately obvious, many people are not conscious of the serious problems it causes. This means that creating awareness of aflatoxin – and how we can beat it – is crucial to the adoption of Aflasafe. For this, the mass media is a crucial partner, hence the pre-launch media orientation. The launch was well covered by the media, and some of the links on this coverage are below.
Aflasafe BF01 was developed in partnership by the International Institute of Tropical Agriculture (IITA), the Agricultural Research Service of the United States Department of Agriculture (USDA–ARS), and Burkina Faso's Institut de l'Environnement et de Recherches Agricoles (INERA). It is the result of long-running research and development efforts, including five years of testing across several regions of Burkina Faso, leading to the product's registration in 2017. "Today marks a very important step in combating aflatoxin in Burkina Faso," said Dr Hamidou Traore, Director General of INERA.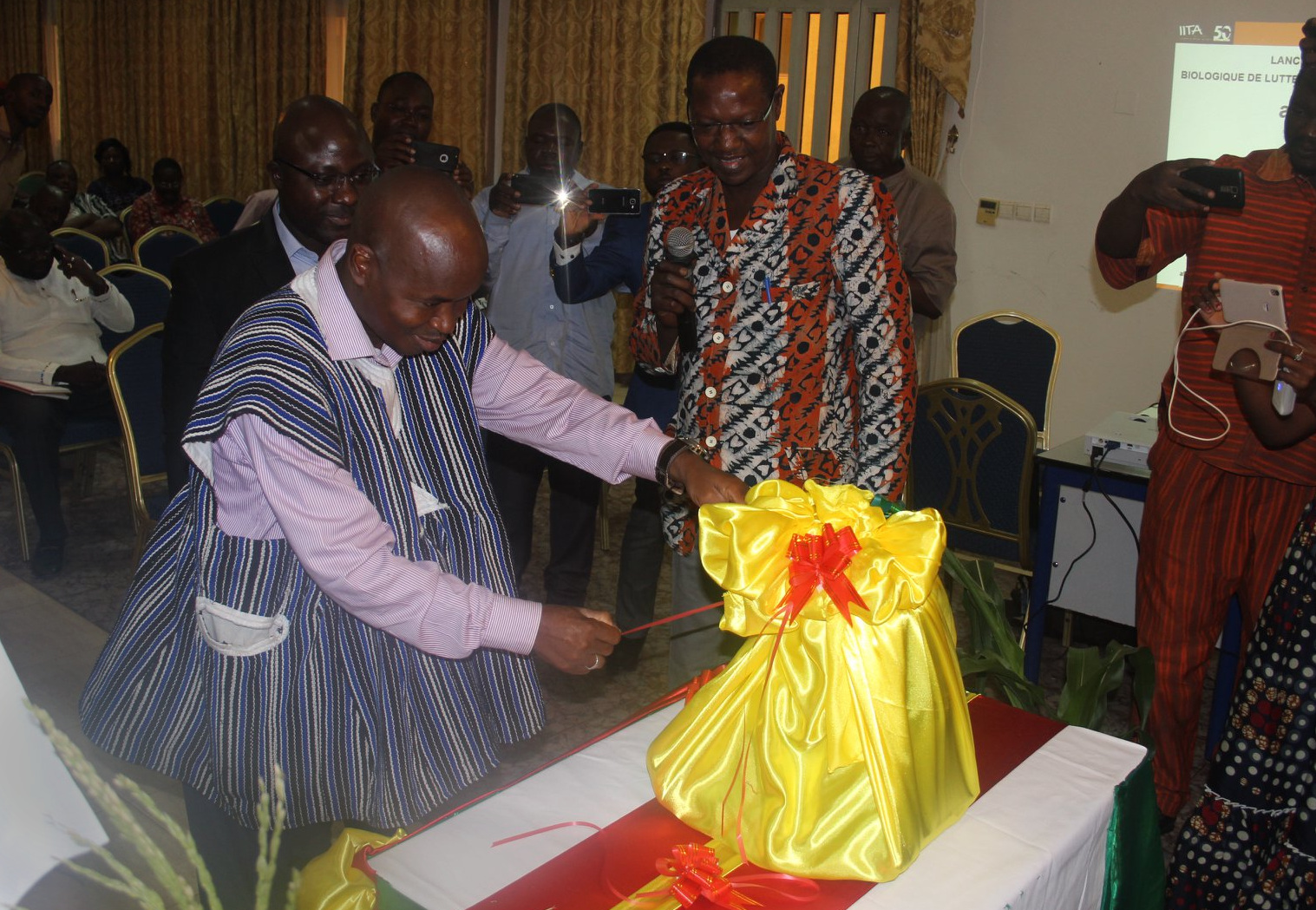 For Burkinabe families, Aflasafe BF01 offers a chance to eat safely from infancy. A 2016 study of cereal-based infant formulas produced in Burkina Faso (used as food supplements for babies) found that 84% contained aflatoxin B1 – the most toxic form of aflatoxin. The worst-contaminated contained 900 times more than the safe limit!
This menace only grows with age, since aflatoxin is a hidden killer that accumulates in our bodies throughout our lives causing gradual but serious damage: it causes liver cancer, weakens the immune and digestive systems, and stunts children's growth. In another study, scientists found that half of ordinary maize intended for human consumption purchased across Burkina Faso was contaminated with aflatoxin B1, all at unsafe concentrations. The picture in groundnuts was a little better – with about a quarter of samples containing aflatoxin, many within safe limits – but still a cause for concern.
Aflasafe also opens up new markets and income opportunities that are currently curtailed by aflatoxin. For example, in Burkina Faso in 2012, the World Food Programme rejected close to 2,000 tonnes of maize exceeding safety levels for aflatoxin. Food that meets stringent aflatoxin limits can be sold on lucrative international markets, for example to Europe and North America, as well as to domestic markets such as breweries that are aflatoxin-conscious.
Aflasafe BF01 is now available for sale in Burkina Faso from our new distribution partners, Eléphant Vert. "Eléphant Vert is a global leader in all-natural solutions for agriculture," said Mr Moussa Sylla, Marketing Director, Eléphant Vert, Mali subsidiary. "Our goal is to promote sustainable agriculture that boosts health and wealth. Aflasafe fits directly into this goal. We will therefore deploy the necessary human, logistic and financial resources for Aflasafe's dissemination. We appeal to public authorities to support this initiative given the negative impacts of aflatoxin on health, agricultural production and the economy."
As part and parcel of commercialising Aflasafe in Burkina Faso, local production is anticipated, and product distribution networks will be strengthened. "IITA is very proud of this partnership with INERA and Group Eléphant Vert to bring this breakthrough to farmers," said Mr Abdou Konlambigue, Managing Director of IITA's Aflasafe Technology Transfer and Commercialisation initative (ATTC). "We remain strongly committed to ensuring that Aflasafe BF01 is effectively disseminated in Burkina Faso."
For lots more information about the launch and background on Aflasafe BF01, see our press release. Our friends at INERA also have a fabulous collection of snaps from the event, which you can check out on Facebook.
Links