Arusha, Tanzania, 7 Mei 2019 – Leo inaashiria siku muhimu sana katika vita vya Tanzania dhidi ya sumu kuvu  hatari katika mazao ya vyakula muhimu ya nchi – karanga na mahindi. Mkataba wa Kuhamisha Teknolojia na Makubaliano ya Leseni (TTLA) ulisainiwa ili kuwezesha uzalishaji wa ndani na usambazaji wa kinga hii ya sumu kuvu (Aflasafe TZ01) – bidhaa za asili ambazo zinafaa kwa Tanzania ili kuamgamiza sumu kuvu kwenye karanga na mahindi, ambavyo ni vyakula muhimu kwenye usalama wa chakula Tanzania.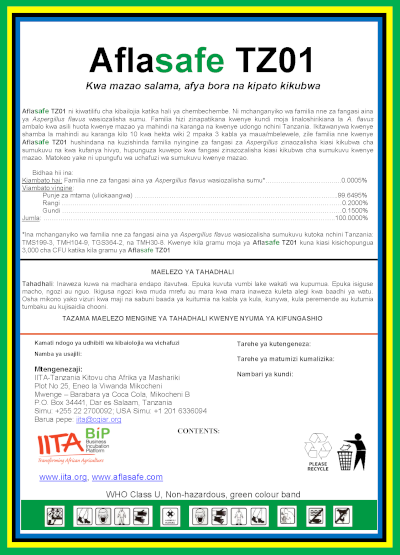 Haya mafanikio ya mkataba ni kati ya A to Z Textile Mills na International Institute of Tropical Agriculture (IITA) ambalo ni shirika la utafiti wa kilimo. A to Z ni kampuni binafsi inayofanya shughuli zake nchini Tanzania, yenye makao makuu jijini Arusha. Kampuni hii inajishughulisha na kutoa huduma za kilimo kupitia teknolojia bunifu na utengenezaji wa mifuko ya kuhifadhia nafaka (Agro Z Bag) isiyohitaji matumizi ya viuwatilifu, turubai, na sasa kampuni inategemea kutengeneza Aflasafe TZ01 ambayo ni kizuizi cha sumu kuvu hatari kwenye Mahindi na Karanga. "Tunatarajia kuifikisha Aflasafe mikononi mwa wakukima ifikapo mwezi Novemba mwaka huu" alinukuliwa Mkurugenzi Mkuu wa A to Z Bw Kalpesh Shah.
Miongoni mwa hatari kubwa ya sumu kuvu anayopatikana kwenye mahindi na karanga ni pamoja na kupunguza kinga ya mwili, udumavu, kansa ya ini na hata vifo vya ghafla. Matokeo ya kitaalamu yameonyesha karibu asilimia 25% mpaka 45% ya mahindi ya Tanzania yameathiriwa na sumu kuvu ikiwa ni pamoja na karanga kwa asilimia kubwa pia. Mnamo mwaka 2016, watu 19 walipoteza maisha yao mkoani Dodoma kutokana na madhara ya sumu kuvu ambapo watu 68 walilazwa hospitalini.
Majanga haya yanaweza kuepukika. "Aflasafe TZ01 ni rafiki kwa mazingira na haina madhara kwenye mimea na kwa binadamu na utendaji wake umethibitishwa" alihakikisha Dr Amos Namanga Ngongi ambaye ni Mwenye Kiti wa Bodi ya shirika la IITA. Aflasafe ni matunda ya ushirikiano wa Serikali ya Tanzania pamoja na ufadhili wa USAID katika kila hatua ya kuthibitisha ubora na ufanisi wa bidhaa hii ya Aflasafe TZ01, aliongeza Dr Namanga.
Bidhaa hii ya Aflasafe TZ01 ilifanyiwa utafiti wa kisayansi mnamo mwaka 2012 kwa kubainisha aina za fangazi rafiki (Aspergillus flavus) ambao watadhibiti fangazi wanaosabibisha sumu kuvu. Hii ilifuatiwa na majaribio yaliofanyika katika mikoa minne (Dodoma, Morongoro, Manyara and Mtwara). Kwa upande wa mahindi majaribio yalifanyika katika wilaya nane (Chamwino, Chemba, Kibaigwa, Kilombero, Kilosa, Kiteto, Kondoa and Kongwa). Wakati karanga majaribio yalifanyika katika wilaya nne ambazo ni (Kongwa, Masasi, Mpwapwa and Nanyumbu).
Matokeo ya majaribio ya miaka miwili yalionyesha Aflasafe TZ01 inathibiti sumu kuvu kwa asilimia 85%. Kwa matokeo haya mazuri, mwaka 2017 maombi ya usajili wa bidhaa hii yalifanyika chini ya National Plant Protection Advisory Committee (NPPAC). Na ndipo mwaka 2018 mwezi wa Oktoba bidhaa hii ilisajiliwa rasmi na Msajili wa Viwatilifu (Registrar of Pesticides) kwa mujibu wa sheria.
"Kufuatia kufanikiwa kwa usajili wa bidhaa hii, kampuni ya A to Z ambayo ina mtandao wa Mawakala wa bidhaa za kilimo wapatao 200 nchi nzima ni wazi kwamba tutafikia lengo la kusambaza bidhaa nchi nzima" alisema Bw Julius Nyabicha, Meneja Masoko, kampuni ya A to Z.
Hii ni habari njema kwa Tanzania na ni sehemu ya jitihada za kizalendo chini ya ushirikiano baina ya IITA na washirika. Mwaka 2013 IITA ilifanya maamuzi wa kuwajengea uwezo wa kibiashara makumpuni binafsi (Business Incubation platform, BIP) ambapo IITA ilikusudia kusambaza teknolojia kuwafikia wakulima na sekta binafsi katika ustawi wa kilimo Afrika.
IITA inakwenda mbele zaidi kwa kutoa msaada wa kitaalam kwenye eneo la maendeleo ya kibiashara na kiteknolojia, kwa ajili ya kutengeneza na kusambaza bidhaa hii Aflasafe TZ01 (Aflasafe Technology Transfer and Commercialisation initiative, ATTC).
Tanzania ni nchi ya nne ambayo IITA imeleta teknolojia hii ya kizuizi cha sumu kuvu. Nchi nyingine ni pamoja na Gambia, Nigeria na Senegal.
Kuhusu IITA: The International Institute of Tropical Agriculture (IITA) ni taasisi isiyo ya kutengeneza faida, amabayo inajishughulisha na wakulima waliopo kusini mwa jangwa la Sahara lenye lengo la kuboresha maisha ya wakulima.
Kuhusu A TO Z Textile Mills Ltd: A to Z kampuni ya kifamilia iliyoanzishwa miaka ya 1960. A to Z inajishughulisha na uzalishaji na usambazaji wa vifungashio vya bidhaa mbalimbali zikiwemo bidhaa za plastiki na mifuko ya kuhidhia nafaka ambazo ni AgroZ® Bag, AgroZ® Bag na turubai.
Kwa mawasiliano:
Media: Njeri Okono, Communications Specialist, Aflasafe Technology Transfer and Commercialisation initiative (ATTC)
Where to buy Aflasafe in Tanzania / A to Z: Julius Nyabicha, Marketing Manager for agricultural products
Aflasafe TZ01 product R&D in Tanzania: George Mahuku, Senior Plant Pathologist, IITA
Aflasafe website | Aflasafe in Tanzania | Aflatoxin
Kiswahili Aflasafe TZ01 label front | back


PDF