"We took an interest in Aflasafe because we realised that the challenges we face as a country and as a region are not only about food security but also food safety – in the sense that you can have food to eat but if that food is not safe it can be even more dangerous than having no food at all.
So it's about giving back to society, but also about having a vision for the future … In the long run we are confident we will be able to build a sustainable business manufacturing and distributing Aflasafe to protect consumers in Tanzania from aflatoxin poisoning." — Julius Nyabicha, A to Z
We're thrilled to raise the curtain on our latest partnership, as Tanzania joins the Aflasafe commercialisation family, a natural and born-to-be. Why? Because, how could the country of the late Mwalimu Julius Nyerere's kujitegemea (self-reliance) philosophy tarry in being part of the Aflasafe revolution or not take full ownership of it right from the outset? With that, plus the country's current goal for Tanzania ya viwanda (an industrialised Tanzania), Tanzania's Aflasafe safari is fast and furious, progressing at warp speed! A Technology Transfer and Licensing Agreement in May set the ball rolling on local production and distribution by A to Z Textile Mills Limited. Read on to hear the A to Z on this perfect storm straight from A to Z themselves – why they're convinced it's a lasting love-match and how they'll be making the happily ever after happen. To liven things up (and in a salute to Mwalimu, whose accomplishments included translating Shakespeare into Kiswahili), let's bring in just a little flair of the dramatic…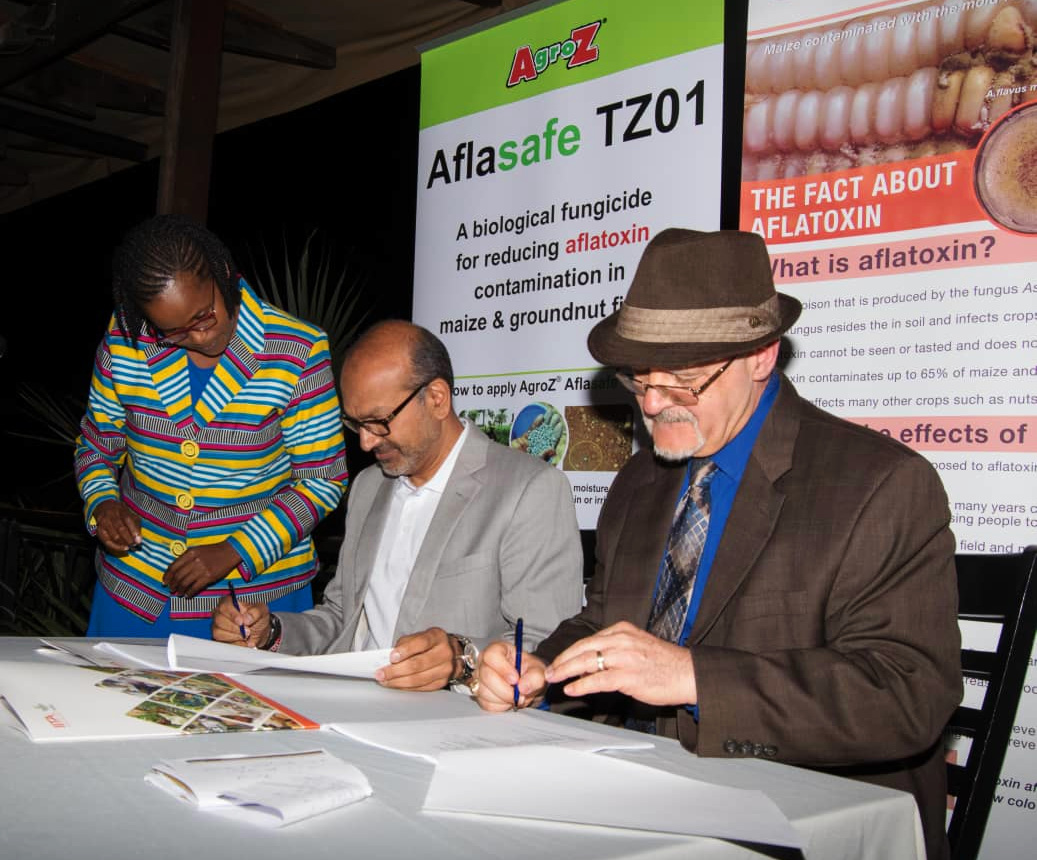 ACT I: 7th May 2019, Arusha, Tanzania. A momentous moment for Tanzania's Aflasafe revolution, as Aflasafe's new and exclusive manufacturer and distributor officially takes the baton, through the signing of an Aflasafe Technology Transfer and Licensing Agreement (TTLA) between A to Z and the International Institute of Tropical Agriculture (IITA). These dual strokes of the pen kick off Aflasafe TZ01's commercialisation, with A to Z now to knuckle down on getting this life-saving aflatoxin-fighting solution to farmers countrywide to protect, for now, two of Tanzania's staple foods – groundnuts and maize. Both are very vulnerable to aflatoxin, in Tanzania as elsewhere. And though a rose by any other name might smell as sweet, the 'TZ01' suffix of Aflasafe TZ01 has its own tale to tell. This product was specially formulated for Tanzania, derived from her own crops and soils, and has behind it years of meticulous multi-partner research followed by rigorous participatory testing on Tanzania's farms.
"We plan to have Aflasafe TZ01 in the hands of Tanzania's farmers in time for the next sowing season in November this year, to help manage aflatoxin," revealed Mr Kalpesh Shah, A to Z CEO, at May's TTLA signing ceremony. Progress in Tanzania has been meteoric so far, and looks set to continue just as rapidly, thanks to a perfect storm of several positive factors.
The cornerstone is collaboration with, and support from, the government of Tanzania. These twin enabling factors have been Tanzania's steroid and 'secret sauce' for the fast and furious pace. The government is prioritising the fight against aflatoxin and endorsing Aflasafe as one of the solutions. This not only paves the path and streamlines statutory and regulatory requirements but also ensures that product deployment reaches further and faster with the government and its country machinery as co-actors. In Tanzania, the government is going beyond merely registering and regulating to actively engage in all aspects of the fight against aflatoxin.
Another turbo charger is ATTC's prior experience in building partnerships to make Aflasafe commercially available in several countries across Africa. Lessons thus learnt have helped us move with alacrity and efficiency. And then, crucially, in A to Z we have a proactive partner who's hitting the ground running, keen to make an impact with Aflasafe and get it in use rapidly and on a large scale. A to Z have the expertise to make it happen, plus extensive networks which include around 240 agro-dealers in every corner of this considerably large country.
Aflasafe TZ01 is the all-natural, environmentally friendly Aflasafe product tailored for Tanzania. In our tests in farmers' fields across the country, when used alongside other good practices, Aflasafe cut aflatoxin contamination by more than 85%. As such, it fits right into several of A to Z's key aims of providing innovative agricultural solutions that contribute to Tanzania's wellbeing in terms of food safety and security, public health and economy and trade. Aflasafe will be in very fine company, joining A to Z's established portfolio of pedigree AgroZ® agricultural products, which already includes other solutions that help mitigate aflatoxin such as hermetic bags and tarpaulins.
The TTLA sets out terms for Aflasafe TZ01's manufacture and distribution, including annual targets that will require A to Z to reach farmers effectively and on a large scale, and which the company will need to meet to retain their five-year exclusivity. Both ATTC and A to Z themselves are confident that the company has what it takes. But who better to tell us more about A to Z and their plans for Aflasafe than themselves?
---
ACT II: Without further ado, we bring you Julius Nyabicha, A to Z's Marketing Manager for agricultural products. Julius takes a deep dive into the marriage between A to Z and Aflasafe, and the challenges and opportunities ahead.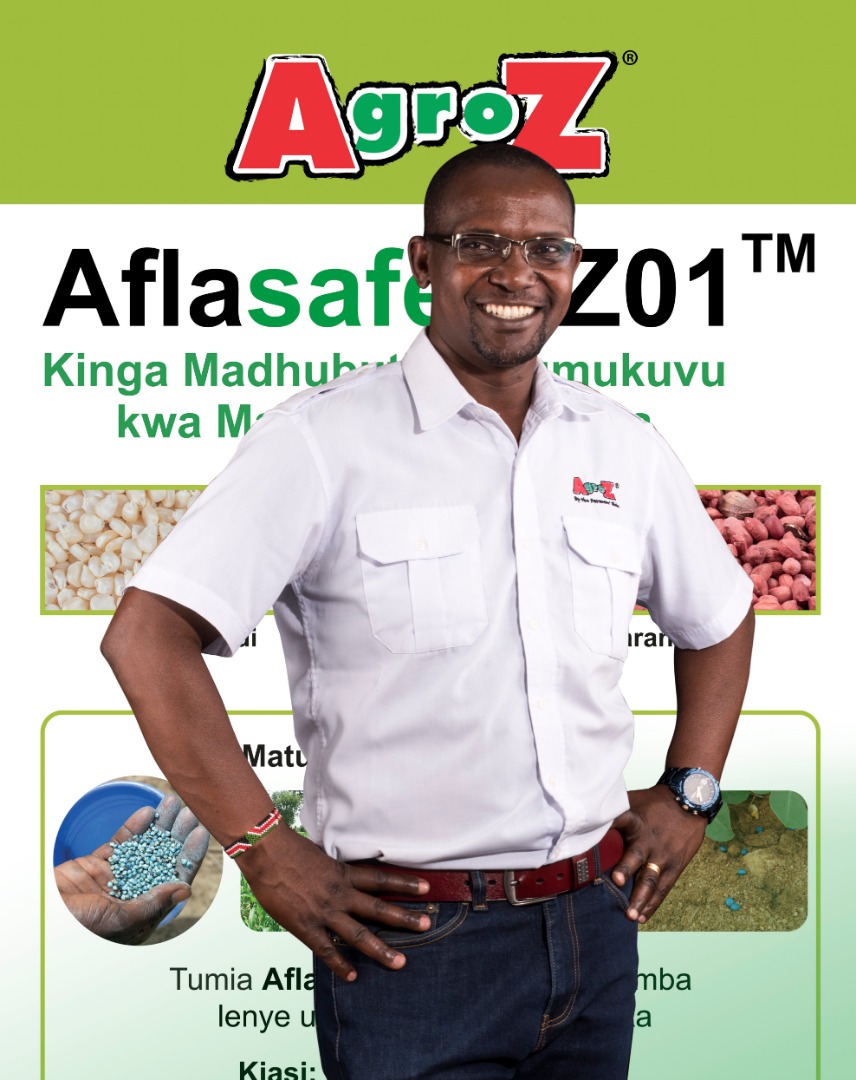 What is A to Z's philosophy, and how does Aflasafe fit in with your goals and interests?
A to Z is a family-owned company, and we celebrated our 50th anniversary in 2016. The company's full name is A to Z Textile Mills Limited, because it started in the textile business. It has since grown quite huge, diversified and has a workforce numbering over 7,000. More than 65% of those employees are women, who would be very vulnerable if they didn't have a job in an African context. That's to a large extent deliberate, because most jobs in Tanzania – most jobs in Africa – mainly favour men, so it's part of affirmative action.
We see ourselves as a big family, and any big family has to be taken care of – in terms of health, food, and economics. That is why A to Z's products are focussed on ensuring our family's welfare.
A to Z is the largest manufacturer of Long-Lasting Insecticidal Nets in Africa and among the top three in the world for malarial control, so we have been working in the health arena for several decades now. Around five years ago we became very interested in the challenge of food security, and began manufacturing hermetic bags for on-farm storage, as well as tarpaulins which are used to properly dry grains and pulses before they are stored, helping to bring down postharvest losses.
In Tanzania farmers lose up to 30–40% of their grain harvest to poor storage, and this has a serious impact on food security, as well as on incomes at both farm and national level. So, over the last four years, A to Z has come out very strongly to ensure that this loss is minimised. We don't want farmers to lose what they have produced.
And why Aflasafe? We took an interest in Aflasafe because we realised that the challenges we face as a country and as a region are not only about food security but also food safety – in the sense that you can have food to eat but if that food is not safe it can be even more dangerous than having no food at all.
"In Aflasafe, we saw an opportunity to participate in bringing down the dangers associated with food safety in Tanzania, and in Africa as a whole"
Cases of liver cancer in Africa are increasing every year. In 2016 in Tanzania, 19 people died of acute aflatoxin poisoning. This was a wake-up call for A to Z just as it was for many other stakeholders in the food value chain and our focus started shifting to food safety as an integral part of our food-security goal. In Aflasafe, we saw an opportunity to participate in bringing down the dangers associated with food safety in Tanzania, and in Africa as a whole. We had been saving food in terms of quantity, but we also needed to have quality food.
When you look around and see a problem, you try come up with a solution. That means that you're not only in business but you're also contributing to the welfare of the people around you, of the people that work for you, and of the families that depend on the people that work for you. At the end of the day, if the people that work for you are doing well, they are happier and their performance is better. You need them to be well fed, you need them to be healthy, and you need them to be well-off economically.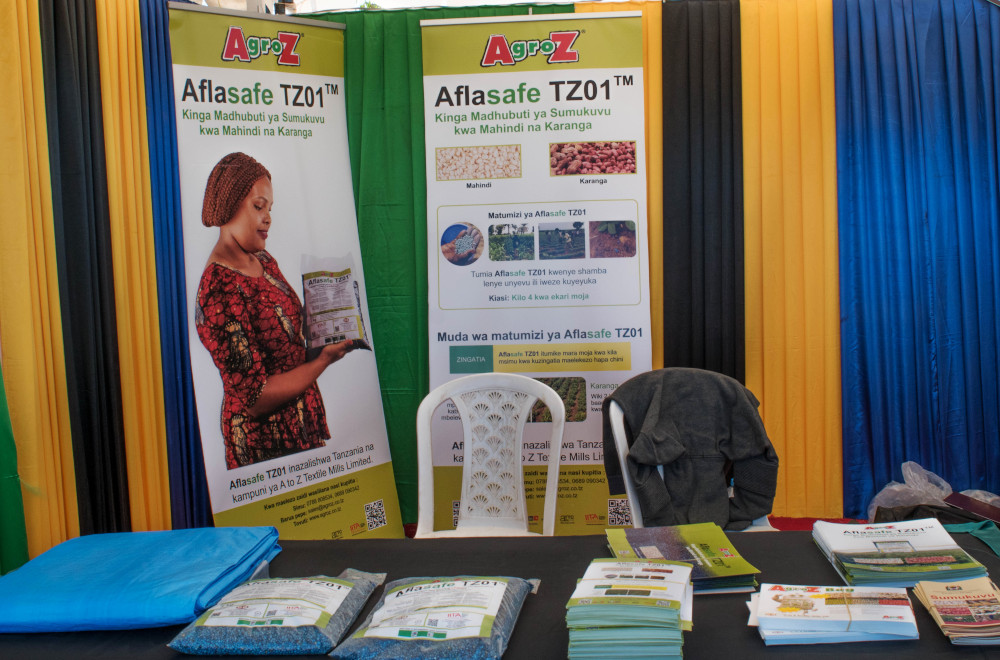 That's true of our A to Z family, and it's true of the wider Tanzanian family: we all thrive if our people and economy are healthy. The products manufactured by A to Z are intended to take care of people and not purely to make money.
What's your approach to marketing and distributing Aflasafe, and what support will you need from IITA, and other critical actors?
That is an interesting question, because you can have a very good product, but if you are not able to distribute it and get it to the market, ultimately the benefit will not be realised . Promoting Aflasafe is quite tricky in a vast country like Tanzania where most people are not aware of the aflatoxin problem. Our approach to marketing will be what we call the 'bullhorn' strategy.
"There are large-scale institutional buyers in Tanzania who know about aflatoxin – who have felt the pinch, the loss that it has brought about"
The first 'horn' of the bull is the supply side. There are large-scale institutional buyers in Tanzania who know about aflatoxin – who have felt the pinch, the loss that it has brought about – and we are already talking with them. They include for example brewers, who use maize in producing beer, and the World Food Programme, which needs to buy large quantities of aflatoxin-safe maize. These buyers sometimes get very frustrated when they buy grain that contains high levels of aflatoxin, or they cannot find enough maize to buy because all the grain brought to them is contaminated, so they understand the problem at first-hand.
If we talk to these buyers, they will in turn talk to the aggregators they buy from. These aggregators will talk to the smallholder farmers who supply them with maize, requiring aflatoxin-safe grain and explaining that there is a solution for aflatoxin in the form of Aflasafe. If we ourselves talk to farmers as manufacturers, they may have the feeling that we are just out for business and looking for a market for our product, but if we work through the institutional buyers who are the customers of the farmers, farmers will get to see that, yes, there is a real challenge here for these valued customers, and there is a way to produce what they need.
"We want to reach the people who eat maize and groundnuts – which is essentially everyone in Tanzania – and tell them about the dangers of aflatoxin"
The second 'horn' is the demand side: talking not to producers but to consumers directly. We want to reach the people who eat maize and groundnuts – which is essentially everyone in Tanzania – and tell them about the dangers of aflatoxin. We will use firm facts and statistics from the health sector, so that we look at the number of people who are getting ill and who are dying of cancer, and how many of these cases are due to aflatoxin. If we run campaigns %9