Entry for the Postharvest Innovations Challenge (February 2017) at the First All-Africa Postharvest Congress & Exhibition (March 2017)
Co-Innovators:
Dr Peter J Cotty, Agricultural Research Service, United States Department of Agriculture
1) Geographical and food value chain focus
Aflatoxin is a poison produced by the soil-inhabiting fungus Aspergillus flavus that infects crops in the field leading to postharvest losses. Common in human food and animal feed, aflatoxin can occur throughout the food value chains, compromising food security, health and trade in many developing countries. The extent of contamination varies by season, crop and region, often hovering around 25%.
Aflatoxin causes an estimated 5–30% of liver cancer worldwide, the highest incidence being in Africa (30%). It suppresses the immune system and stunts child growth. Internally, approximately 40% of the produce in African markets exceeds the aflatoxin maxima allowed. Externally, Africa potentially loses up to USD 670 million annually in lost export opportunities.
Aflasafe is registered in Kenya, Nigeria, Senegal and The Gambia, where tens of thousands of farmers are using it. Product development is under way in another nine African countries, with plans to commercialise Aflasafe in all the countries of engagement.
2) Technical quality
The Agricultural Research Service – United States Department of Agriculture (USDA–ARS) invented a natural biopesticide for aflatoxins that is safe and cost-effective. Thereafter, the International Institute of Tropical Agriculture (IITA) worked with USDA–ARS and several national partners to adapt and improve this technology for Africa, resulting in Aflasafe. Aflasafe looks like seed sorghum. The grains are 'killed' by heating before coating with spores of four native beneficial fungi. These beneficial fungi are native strains of A. flavus that cannot ever produce aflatoxins. The beneficial fungi progressively displace toxic strains of A. flavus, thus creating a cumulatively safer environment for the crop season after season. Aflasafe consistently reduces aflatoxin contamination in maize and groundnuts by between 80 and 99% at harvest and in storage.
Applied preharvest but with postharvest benefits, a single application of Aflasafe − just this one single action in each cropping season − is all that is required to protect maize or groundnuts along the entire value chain from plot to plate. Ten kilos of Aflasafe, costing between USD 12 and 20, is applied on each hectare by simply broadcasting 2–3 weeks prior to flowering. Aflasafe is currently packed in handy 2.5- and 5-kilo bags for easy application by smallholders. (5-minute video on how Aflasafe works)
3) Originality
Aflasafe is not simply imported from one country to another, nor is its development top-down. It is the first biopesticide developed locally through years of continuous national and international collaboration. Aflasafe is not a one-size-fits-all product in its composition or approach. Rather, Aflasafe is painstakingly customised for each country by modulating and making safer the country's particular fungal community. With reduction approaching 100% in some crops and countries, to date, Aflasafe remains the most cost-effective technology for controlling aflatoxins in Africa. It is an all-African initiative: inputs are sourced in Africa and production is on African soil, allowing for rapid manufacture, deployment and distribution across the continent.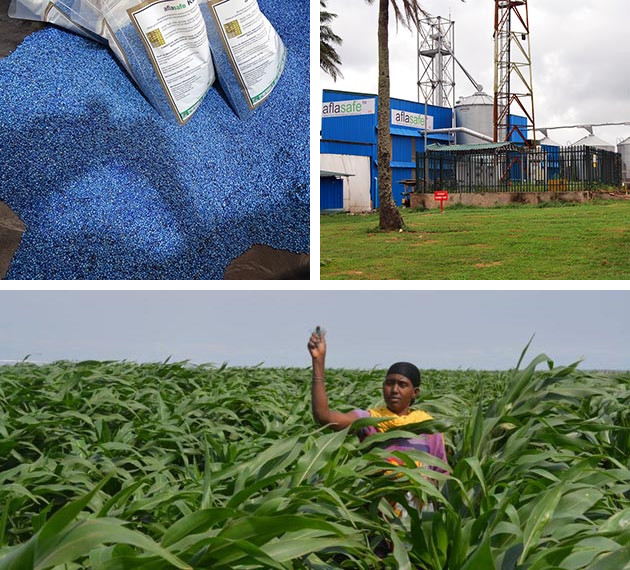 4) Feasibility for commercialization
With up to 500% return on investment for farm-based businesses and their constituent farmers, Aflasafe is an attractive value proposition. Commercialization discussions with the private sector are at an advanced stage. More than 450 tons of Aflasafe were sold in Nigeria, Kenya, Senegal, The Gambia and Zambia in 2014−2016. Pending orders are approximately 1,000 tons. The projected demand in 2017 alone is 1,000 tons (equivalent to 100,000 hectares). In Nigeria, Aflasafe-protected maize fetched 13−17% more profits in 2013−2015. We are working with global marketing experts on three prongs in each country: target market analysis, production scenarios and delivery approaches. For maize in Kenya, our model projects a 40% increase in adoption by Year 5.
5) Potential for upscaling and worth of investment
Although commercialisation is still in the early stages, more than 20,000 farmers are already using Aflasafe through agri-business incentivisation (Nigeria) and engagement (Senegal); and government distribution (Kenya). The Aflasafe Technology Transfer and Commercialization Project − funded by the Gates Foundation and USAID − was recently launched to ensure Aflasafe reaches millions of farmers in 11 African countries through public- and private-sector partnerships. These partnerships will enhance Aflasafe's availability and accessibility through investments in its manufacture and distribution, thus fostering adoption. The initial target is at least half-a-million hectares of Aflasafe-protected smallholding in five years. Country-specific strategies are being designed to guide the choice of models and investors in each country.
How Aflasafe works