A symposium co-organised by IITA and partners at the 1st All-Africa Postharvest Congress and Exhibition (28th to 31st March 2017)
STOP PRESS: For our press release on this event, see here.
What is aflatoxin and why should I care?
Health alert! Aflatoxin is a poison that contaminates a wide range of food crops as they grow, and persists after harvest, finding its way into humans through the food we eat, including animal products from livestock that have eaten aflatoxin-contaminated feed. Aflatoxin causes liver cancer, compromises immunity, stunts growth in children and kills chickens through contaminated feed.
Aflatoxin poisoning also contaminates our food chain through animal products and mother-to-baby transmission. Young children continue to ingest aflatoxin through bottle and breast milk, and weaning on maize- or groundnut-based diets. Aflatoxin is unforgiving and cumulative, piling up in our bodies as we continue to eat and drink contaminated foods. So dire is the problem that in some countries, studies show nearly all (more than 95%) of the children under five have aflatoxin in their body, indicating high aflatoxin exposure even at this early age. Therefore we should all care about aflatoxin because whether we are food manufacturers, buyers, sellers or processors, ultimately, we are all food consumers.
Trade loss! The toxicity of aflatoxins to humans and animals has resulted in stringent regulatory controls worldwide. Groundnut and maize exports are often barred from lucrative western markets because they exceed the allowed maximum of aflatoxin levels. Aflatoxin contamination is also a growing impediment to expanding intra-Africa maize and groundnut markets. On the global scene, groundnut exports from Nigeria and Senegal have been progressively hard-hit. Comparing 1970 and 2010, exports in metric tonnes fell from a high of 291,000 and 51,450 respectively for both countries, plunging to a mere 180 and 13,806 tonnes. According to a World Bank study, reducing aflatoxin contamination would add USD 281 million annually to Senegal's groundnut exports alone
What can we do about aflatoxin?
To get to the heart of the matter, to understand the extent of the problem but also solutions on how aflatoxin can be overcome, we warmly invite you to attend a dedicated interactive symposium on Safeguarding Africa's food – Are we winning or losing the fight against aflatoxin? at the 1st All Africa Postharvest Congress and Exhibition, Safari Park Hotel, Nairobi, Kenya. We have assembled a cross-section of world-class experts drawn from the diverse pool of organisations working on – or concerned about – aflatoxin. These experts will brief participants on the tragedies and triumphs in the fight against aflatoxin in Africa, based on the very latest evidence, presenting the problems, practical solutions on the ground, and mapping the way forward.
Together therefore, participants will explore:
The extent of the aflatoxin problem, and its impact on food security, health and trade
Technologies, policies and institutions in aflatoxin mitigation
Scaling up, and experiences from the public and private sector
This aflatoxin symposium will be led by the International Institute of Tropical Agriculture (IITA) and is jointly organised by IITA and its partners. No single organisation or approach has all the answers. Cognisant of this, the collegial multi-institutional and interactive symposium is designed to illustrate the efforts of the various actors on different fronts, and how we can further enhance coordination and concert in our shared vision to fight aflatoxin.
But is this symposium really for me?
If your area is crop or livestock production, public health and administration, food policy and processing, agro-industry, agribusiness or related fields, or you're a discerning and safety-conscious consumer, this symposium is for you. Come and learn from the cross-fertilisation of ideas and be part of the solutions to the deadly plague.
Registration, and more information
Registration: Please note you must register to attend. If you have already paid the full Congress registration fees, no additional fees are required for this symposium. If you will only be attending this symposium, inquire from the Postharvest Congress organisers for the applicable fee through the Congress website. Symposium registration deadline: 20th March 2017. Register for the Aflatoxin Symposium
Aflatoxin on twitter
Aflatoxin-contaminated or not?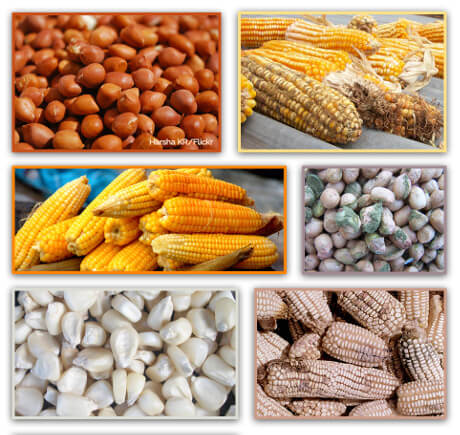 Like books, do not judge your food by its cover. Which of these is aflatoxin-contaminated? The mouldy ones? The 'clean' ones? It could be either, or neither. Without a chemical test, it is impossible to tell. With aflatoxin, its stealth is its strength, which is what makes it so deadly. According to Barbara Stinson, Project Director at the Partnership for Aflatoxin Control in Africa, "The fuzzy, green fungus alone isn't a dead giveaway that the toxin is present." Similarly, the 'clean' look does not mean that the food is aflatoxin-free. Aflatoxin in food is measured parts per billion (ppb). The Nigeria and European Union safety level is 4 ppb, 10 in Kenya and 20 in Senegal and USA. Picture that in parts per billion! We cannot see, smell or taste aflatoxin even when its level is lethal.