Video Photos & quotes Our team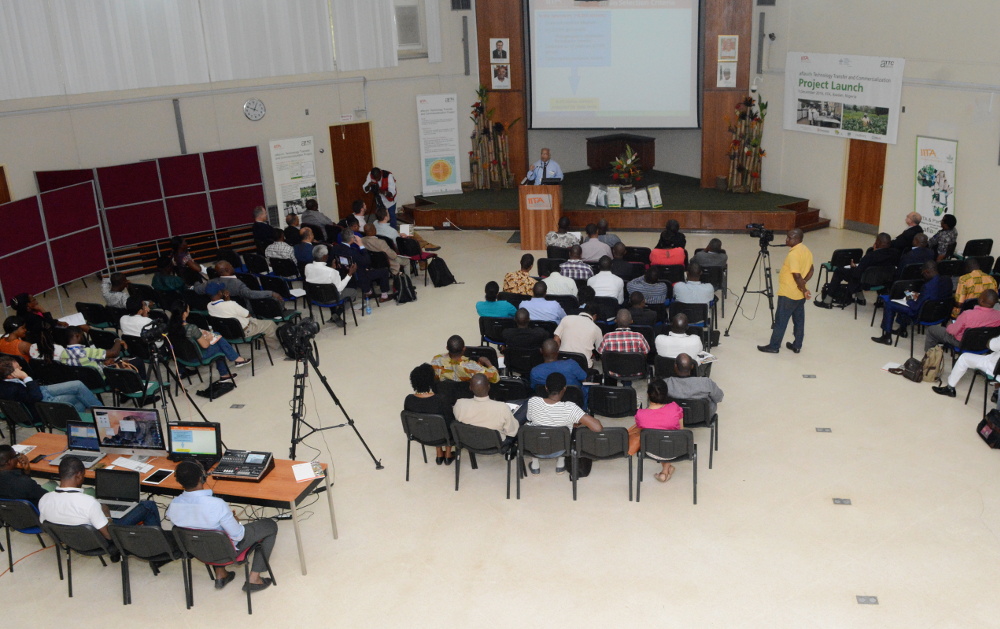 The Aflasafe Technology Transfer and Commercialisation initiative (ATTC) was officially launched at the International Institute of Tropical Agriculture (IITA) headquarters in Ibadan, Nigeria, on 1 December 2016. More than 100 participants attended from farmers' organisations, research institutions, ministries of agriculture, regional economic communities and the private sector.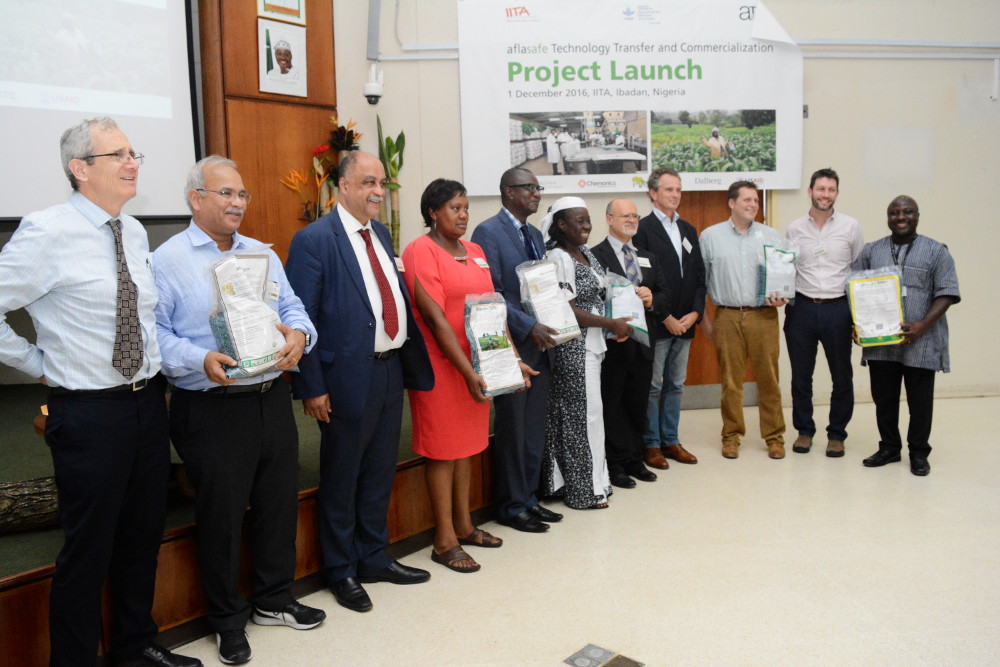 Through strategic business partnerships, ATTC aims to get Aflasafe into the hands of as many farmers as possible and so to drastically cut aflatoxin contamination in food across Africa. It seeks to rapidly increase Aflasafe production, transfer the technology to companies and organisations in each country, and commercialise it in such a way that Aflasafe manufacture and supply systems are economically viable, sustainable, and independent for many years to come. By licensing a mix of manufacturing, distribution and marketing roles to local partners, we also tap into their expertise and networks to reach millions of farmers.
ATTC is jointly implemented by IITA (lead institute), Chemonics International and Dalberg Global Development Advisors, working together with a one-team approach. It is funded by the Bill & Melinda Gates Foundation, the United States Agency for International Development and the CGIAR Research Program on Agriculture for Nutrition and Health. Aflasafe is the product of solid research led by IITA and the United States Department of Agriculture – Agriculture Research Service, which first developed the concept. Thereafter, IITA catalysed research with national partners in Africa to develop country-customised Aflasafe products. Combined with good agricultural practices, Aflasafe is an innovative and uniquely powerful tool against aflatoxin, cutting contamination by between 80 to 100% when all facilitative conditions are met. It has the potential to significantly improve public health, as well as income through guaranteed access to lucrative markets.
Ready on for an all-round multimedia experience? Take our tour and you'll feel like you were at the launch! We start with a video of the day's presentations, followed by a selection of photos and quotes, rounding off with a virtual introduction to the ATTC team.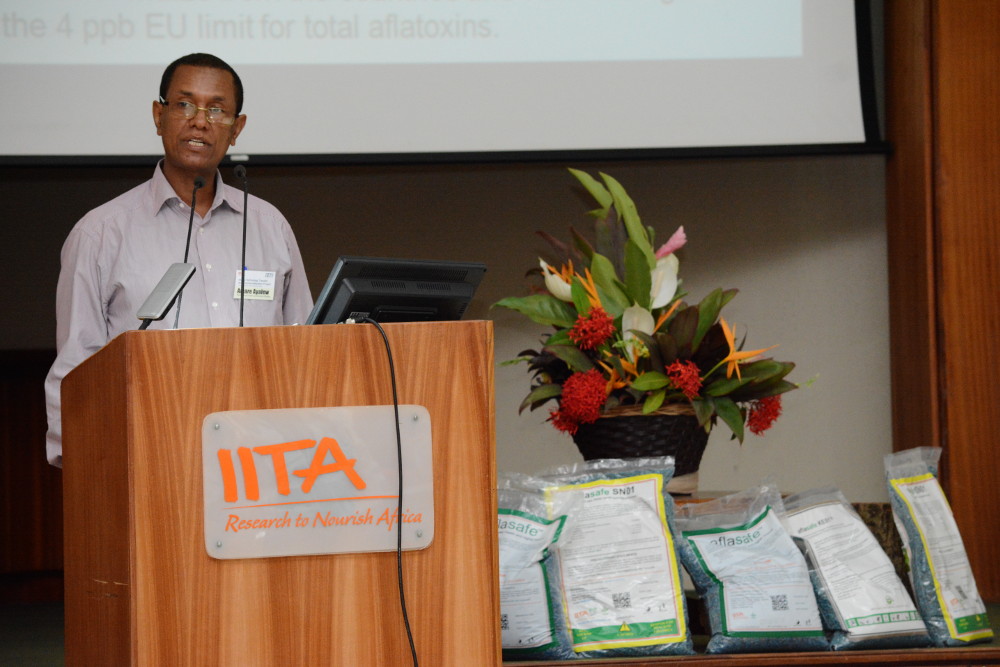 "In Africa, farmers produce highly contaminated crops, which cannot be exported. They therefore need research technologies like Aflasafe that can help them meet required standards and nourish their families." — Amare Ayalaw, Programme Manager, Partnership for Aflatoxin Control in Africa (PACA)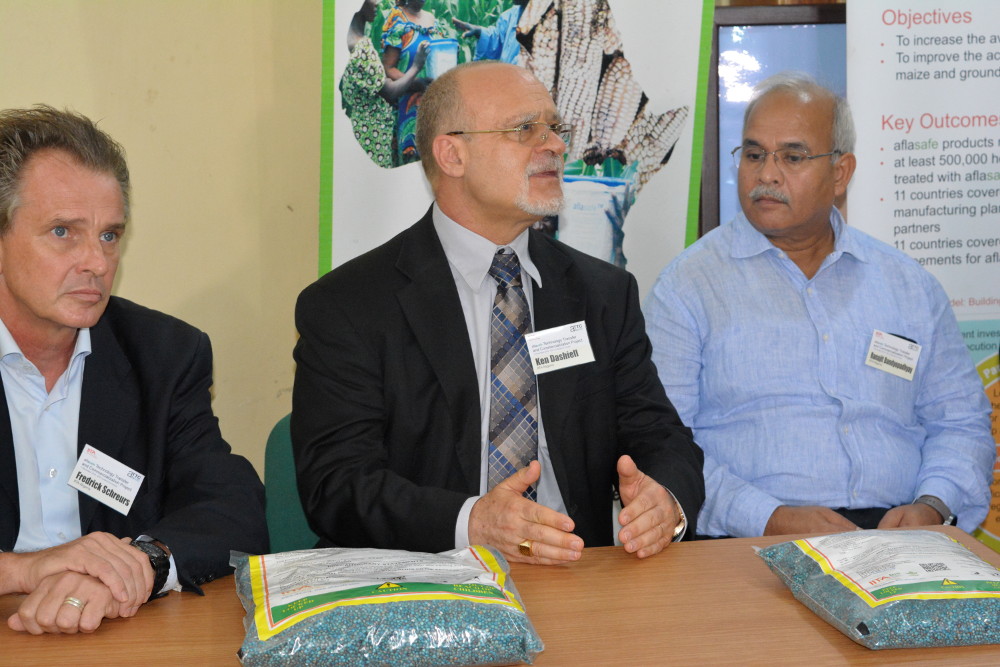 "To get the product to the users, we need many companies, millions of small-scale farmers, and distributors, who know what Aflasafe can do to apply it. We are passionate; we are excited because we are on the edge of seeing this happen." — Kenton Dashiell (centre), IITA Deputy Director General, Partnerships for Delivery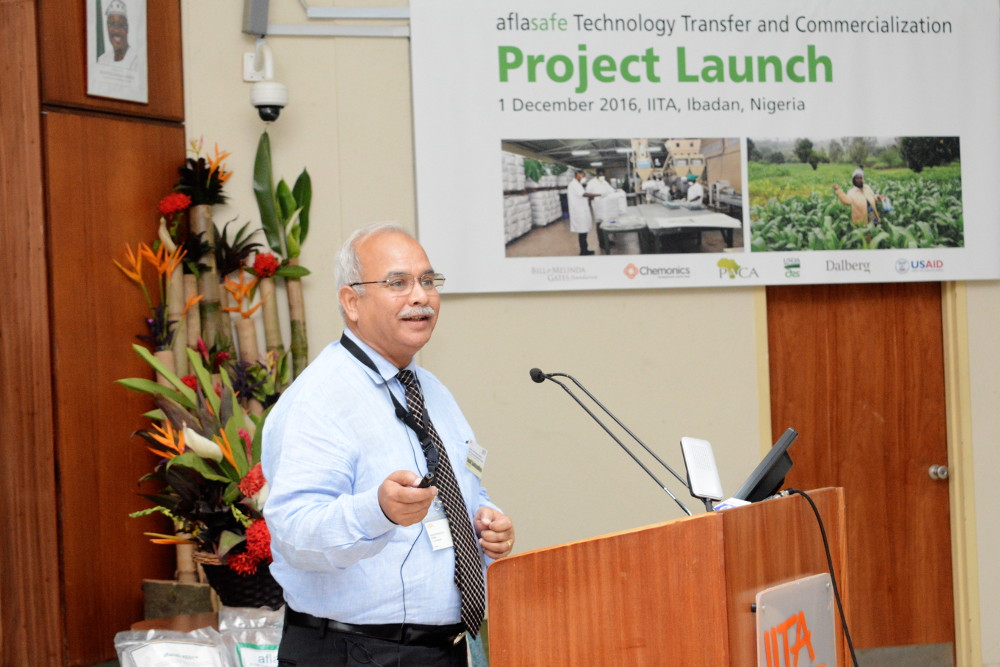 "This product is indigenous to Africa! Developing the technology was not difficult, taking it out to the end users is the challenge, and therefore, partnerships are very crucial." — Ranajit Bandyopadhyay, Principal Scientist in Plant Pathology and Research Leader of the Aflasafe Initiative at IITA
"Agencies for food control, private-sector players, and governments need to come together and partner with IITA to ensure the constant availability of the product, and limit the imitation." Peter Cotty (extreme right, United States Department of Agriculture – Agriculture Research Service and the University of Arizona)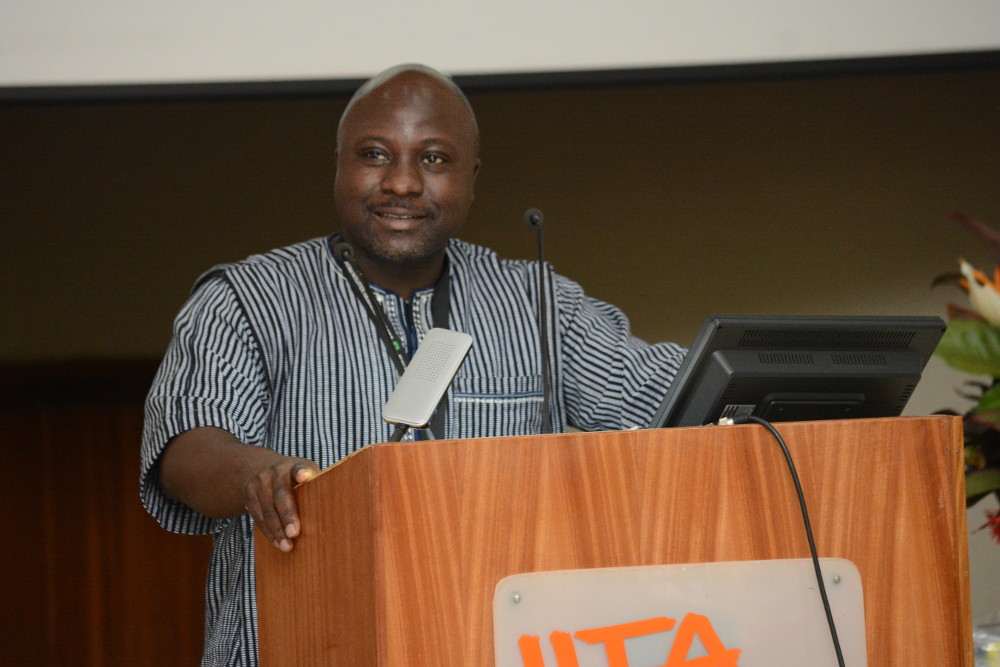 "We look forward to working with the national governments and private sector on this project, to make Aflasafe available and accessible to farmers, to improve the food safety and income of farmers." — Abdou Konlambigue, ATTC Managing Director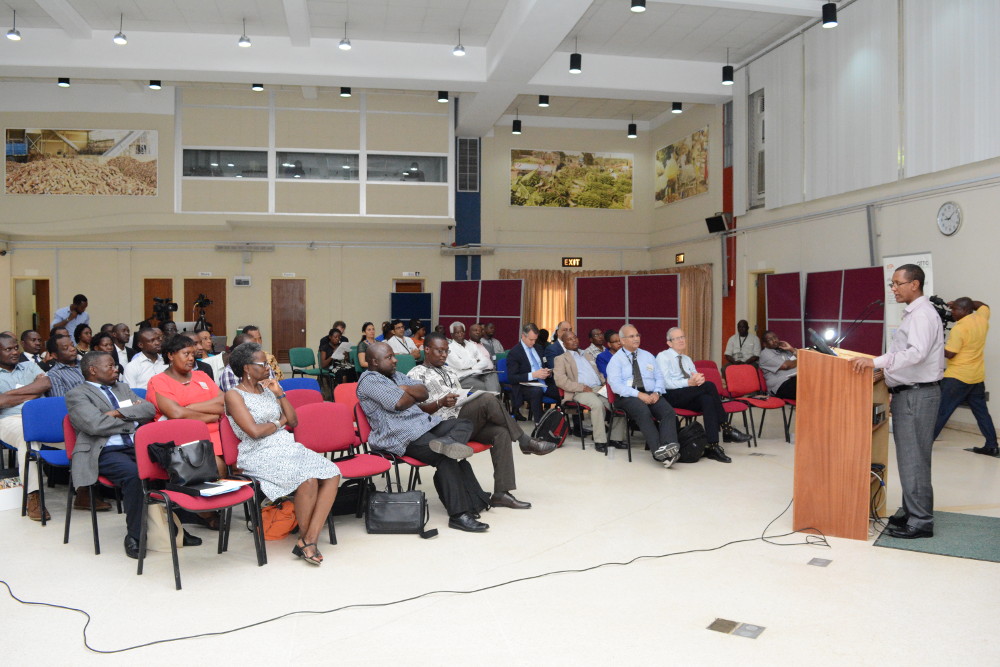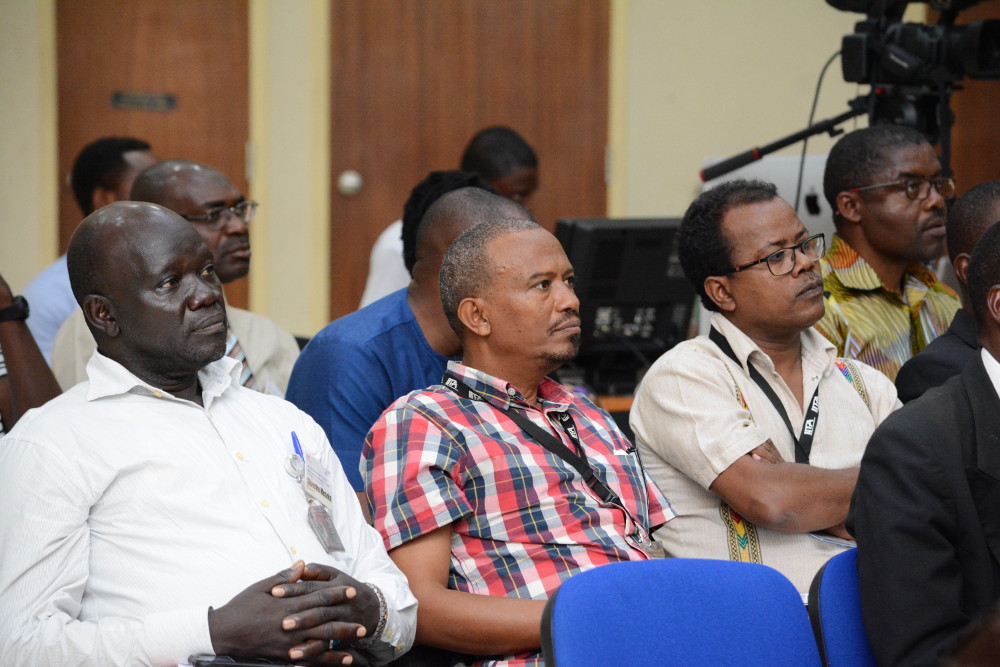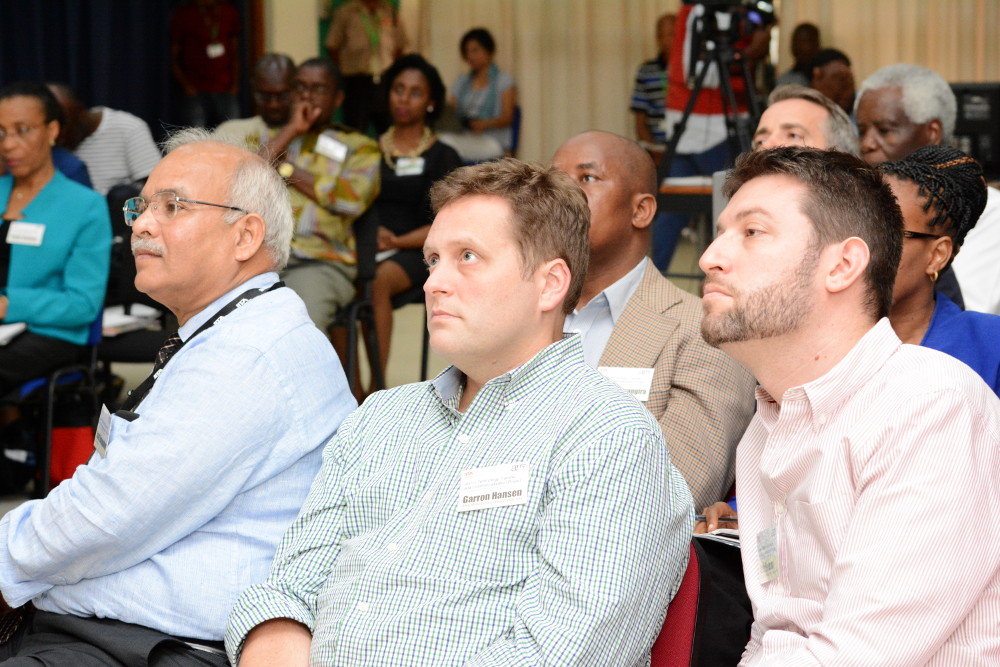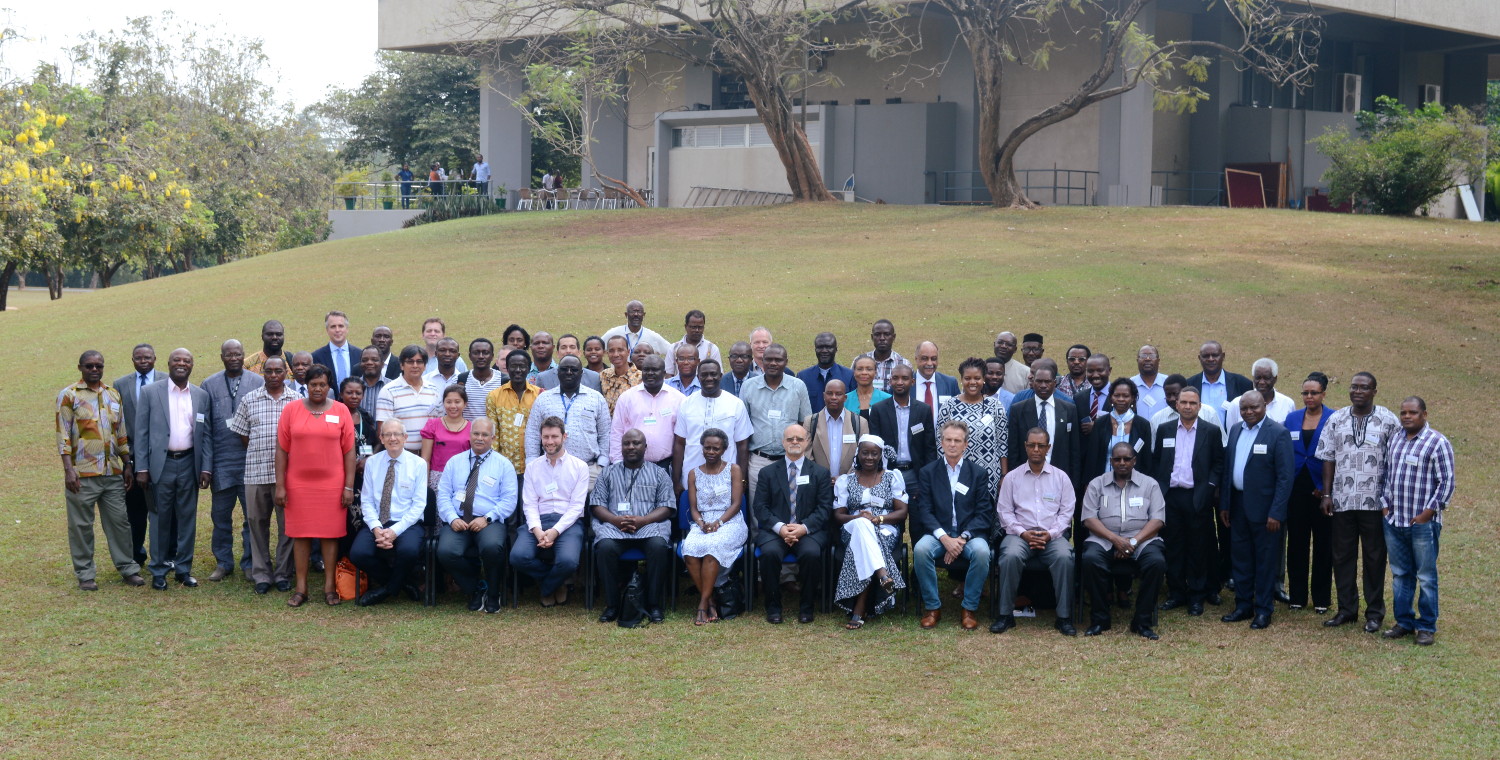 Our team
ATTC Advisory Board
Mr Orin Hasson, Senior Program Officer, Bill & Melinda Gates Foundation (Board Chair)
Dr Amare Ayalew, Program Manager, Partnership for Aflatoxin Control in Africa(PACA), African Union Commission
Dr Ranajit Bandyopadhyay, Principal Plant Pathologist and Research Leader, Africa-wide Aflasafe Initiative, IITA
Dr Peter J. Cotty, Research Plant Pathologist, Agricultural Research Service, United States Department of Agriculture
Dr Kenton Dashiell, Deputy Director General, Partnership for Delivery, IITA
Mr Brian Fahey, Senior Agricultural Advisor, USAID East Africa Mission
Mr Garron Hansen, Senior Program Officer, Bill & Melinda Gates Foundation
Ms Isabelle Mballa, Chief, Food Quality & Safety Unit, United Nations World Food Programme
Mr Frederick Schreurs, CEO, Business Incubation Platform, IITA
ATTC Staff
Mr Abdou M Konlambigue, Managing Director
Ms Jane Kamau, Strategy and Agribusiness Advisor
Mr Peter Okomoh, Commercialisation & Agribusiness Manager for Western Africa
Dr Charity Mutegi, Aflasafe Coordinator for Kenya
Dr Alejandro Ortega-Beltran, Aflasafe Technical Lead
Mr Moussa Kabore, Business Development Specialist for Burkina Faso
Ms Sally Adjetey, Business Development Specialist for Ghana
Dr Amadou Lamine Senghor, Business Development & Technology Transfer Specialist for Senegal and The Gambia
Eng Lawrence Kaptoge, Engineer, Aflasafe Manufacturing Specialist
Mr Ouambi Yameogo, Monitoring & Evaluation Specialist
Mrs Njeri Okono, Communications Specialist
Mrs Chichi Obilo, Project Administration Specialist
Ms Dinah Kofigah, Project Assistant
Our many friends and partners across Africa are too many to list here, but we gratefully acknowledge their huge role in making our work happen. Visit Aflasafe where I am to learn more about the latest in your country of interest.
More